Women succeed in male-dominated field
12 October, 2018, 10:04 am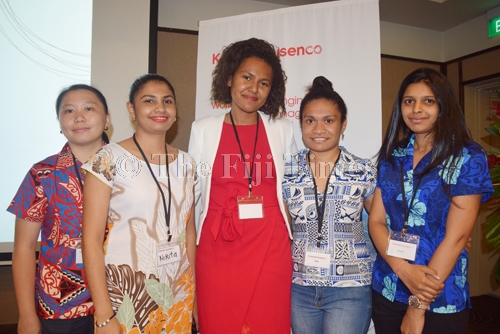 BEING thick skinned and determined is what five young women used as weapons to survive in a male dominated field.
Ulamila Rokocakau, 27, who hails from Naselai in Tailevu is a graduate civil engineer, Ellen Mar, 24, who is from Suva is a graduate electrical engineer, Nikita Sharma, 26, who is from Tavua is an electrical engineer, Lora Paue, 23, who is from Papua New Guinea is an attache mechanical engineer and Drasti Raniga, 23, who is from Nadi is a graduate design mechanical engineer.
The five women are employed at Kramer Ausenco as mechanical or electrical engineers a profession mainly held by males.
For Ms Rokocakau she grew up seeing designs of buildings as her father was an engineer.
"I think I was keen on buildings and designs at a young age as my father was an engineer and I used to admire him go about doing his work," Ms Rokocakau said.
After doing her practical studies at Suva City Council, Ms Rokocakau applied for a job at Kramer Ausenco and got through to her first proper job after graduating with her degree.
"I think our workplace is amazing as they encourage us women in our work and to be the best we can be," Ms Rokocakau said.
For Drasti Raniga being in a male-dominated field is a way to prove her critics wrong as she was often regarded as weak.
"My elder brother inspired me as he is also a mechanical engineer and I wanted to prove everyone wrong because I was often told I was weak."
Securing her first job as a graduate design mechanical engineer with Kramer Ausenco in March this year soon after her graduation was positive step in achieving her goals.
"It is really a good experience working in a male dominated field and my male work colleagues look at me as an equal," Ms Raniga said. "I love my workplace because my bosses often encourage me and motivate me in regards to work."
Kramer Ausenco Fiji office manager Shane Harris said they were focused on training their young team of staff — 20 of them to work hard and also to further their studies in their own field of work.
"We are of the view that one day, this young team will manage this company in Fiji and take it to greater and new heights," he said.