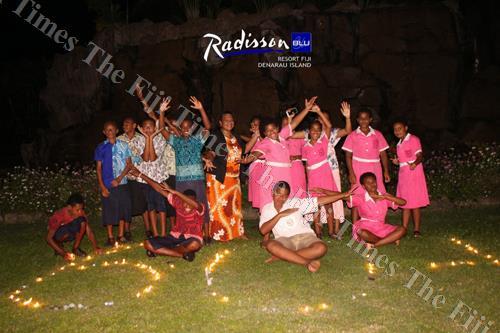 WALKING the talk with their "responsible business" vision, Radisson Blu Resort Fiji took a different twist in celebrating Earth Hour this year.
The Denarau Island-based resort last Saturday had an intimate Earth Hour celebration by inviting in-house guests, three local Nadi schools and staff members to join the special program organised by the resort.
Activities to mark the occasion included a countdown to Earth Hour followed by a candlelit ceremony, choir singing and entertainment by the school students, fire show and traditional Fijian activities inviting guests to participate.
As the tradition of the global initiative by World Wide Fund for Nature (WWF), all lights were switched off at the resort for Earth Hour and guests were encouraged to turn off all unnecessary lights in their accommodation room for the hour and join the celebration and candlelit dinners hosted throughout the evening.
According to Radisson Blu Resort Fiji general manager John Bendtsen, the resort were loyal supporters towards the initiative and continued to join forces to combat climate change and reduce environmental impact, also giving hotel guests and employees the opportunity to contribute to tackling climate action.
"Responsible business is an essential part of the Radisson Group of Hotels vision and this yearly event is celebrated for years through all 1400 Radisson Blu Resorts Worldwide," Mr Bendtsen said.
"Earth Hour is a positive cause that is part of the Radisson Blu Resort culture to help make a difference in the world, be a positive influence and raise awareness on climate change and the impact that it has on Fiji, the resort and the rest of the world."
To be recognised as a responsible and innovative organization, the Radisson Blu Fiji had invested in having the largest roof mounted solar power system in Fiji which continues to provide the hotel with energy savings throughout the years.
Other active measures such as water and waste management initiatives are practiced in the hotel, also ensuring certification by 'EarthCheck Pty Ltd' on a yearly basis to be recognised on an international level as a leader amongst sustainable tourism operators.