Vigil on suicide prevention
11 September, 2018, 11:30 am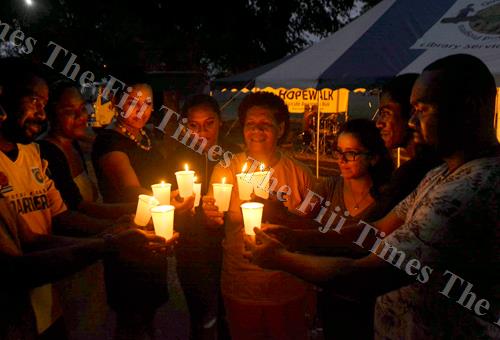 SERA Osborne is a survivor.
Facing a myriad of personal issues, abuse and judgment, she felt there was no escape and attempted suicide.
Today, Ms Osborne is the project officer and office manager for Psychiatric Survivors Association, a group dedicated to helping those in need and creating awareness on suicide prevention.
She was in Lautoka yesterday to attend a vigil ceremony organised by Lifeline Fiji in light of World Suicide Prevention Day.
"People assume, no one took a second to ask, 'hey, are you okay? Why are you acting this way?' And it's a pity because it takes a person to commit suicide for us to react and regret," she said.
"Why don't we act when we see something unusual? There is help available, you are not alone.
"Don't allow what people say, what they think, to get the best of you.
"They don't know anything about you. You as an individual know yourself."
Lifeline Fiji officer-in-charge, Jeremiah Merekula, said an estimated 63 suicide cases were recorded by them so far this year, compared with 52 last year.
There have been more than 70 attempted cases.
"We thought to have a vigil in the West just to raise awareness because the majority of suicide cases happen in the western side," he said.
Mr Merekula said one of the key aspects of awareness was focusing on families and highlighting the importance of understanding and knowing the crisis each person went through.
*If you need someone to talk to, you can always contact Lifeline Fiji on 132454.