Vanuatu Government eyes National Security Council
8 September, 2018, 1:15 am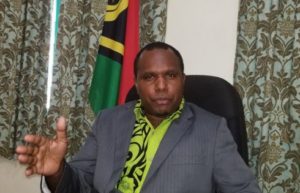 PORT VILA, 07 SEPTEMBER 2018 (VANUATU DAILY POST)- Vanuatu Ministry of Internal Affairs will establish a national security council shortly.
Minister responsible for national security, Andrew Napuat said the issue of national security is of paramount importance to the Government and the people of Vanuatu, as well as investors.
Minister Napuat revealed this when he was answering a question in relation to the national security at large and the strength of the current Vanuatu Police Force which was raised by the press.
Minister Napuat said the current strength of the force stands at 500 officers but this must be increased to meet the demand for the national security at all level of the Vanuatu communities, including business and visitors to uphold and keep confidence and peace in the nation.
He pointed out that in 2017 a funding of Vt20 million (US$175,000) was granted by the government for recruitment of young people to be trained and serve the nation.
However, only 200 out of 2,000 young ni-Vanuatu applicants were selected and went through process that ended with only 35 recruited, trained and marched out in July 2018.
The reason for recruiting only 35, the Minister explained is because of funding limitations to the Vanuatu Police Force's human resources programme.
The minister also stressed that Vanuatu has many school dropouts who can be trained and engaged in different forms of policing such as 'community policing'.
He also confirmed dialogue with donor partners to develop programs for dropouts to be engaged in community policing in the future.
The young school dropouts will go through training and discipline that will shape them to carry out the role of community policing.
"The ministry is meeting donor partners and discussing this matter, towards establishing a center for excellence academy for young dropouts with the aim of getting them trained for community policing," said minister Napuat.