USP launches $4.4m project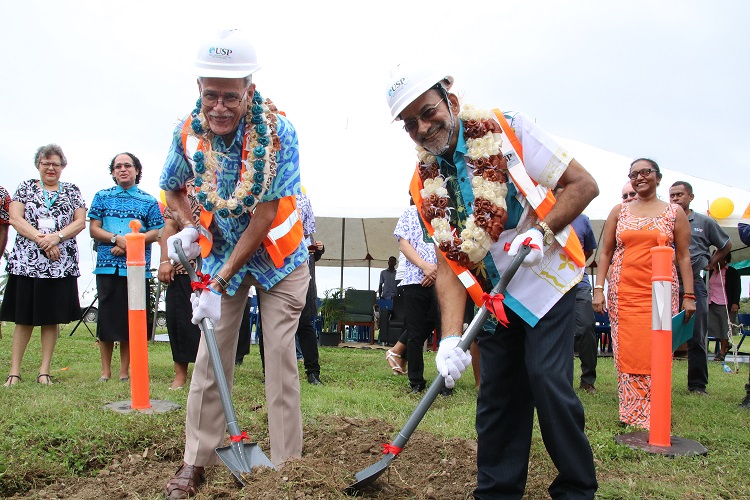 A $4.4 million University of the South Pacific (USP) project was launched yesterday which will see the construction of a new entrance at its Laucala Bay Campus in Suva.
The project involves the construction of a new gate and entry from the Queen Elizabeth Drive along the Nasese foreshore.
This is an addition to its main entrance gate which is adjacent to Cost U Less along Laucala Bay Rd in Suva.
According to USP Vice-Chancellor and President Professor Rajesh Chandra, the project will fundamentally reshape the orientation of the university and was in line with its masterplan to ensure a more organised and planned campus infrastructure.
Professor Chandra said the new gate and entry would not only reduce traffic congestion along Laucala Bay Rd especially during peak hours and when major events are being held in the Fiji Sports Council facilities.
"It will also create a much safer zone for USP students, staff, visitors and other pedestrians along the area," he said.
He stated that the traffic congestion along the current gate and the risk to the students was identified.
Professor Chandra said it would only worsen in the future with further commercial developments along the Laucala Bay Rd stretch.
He said when the new gate was completed, the current entrance gate to vehicle traffic would become a pedestrian only gate.
The completed construction will comprise a 300-metre concrete paved road from the Queen Elizabeth Drive to Moana Drive in front of the Faculty of Business and Economics (FBE) Postgraduate Lecture Theatre.
"It will also have a larger concrete paved car parking area than our current student car part with better lighting and security camera coverage, security booth with improved side parking for visitors who need to stop at the security booth," Professor Chandra said.
He added that the road design was suitably wide to manage incoming and outgoing traffic better within the university with minimal effect on traffic along the main road.
According to Professor Chandra, students will also be provided with improved bus bay area and bus shelter.
"We have also been mindful of the mangroves in this area and have chosen to preserve and protect it from any depletion and will utilise it to be part of the aesthetics for the new road and gate," he noted.
The road construction works tender has been award to China railway First Group (Fiji) Ltd, a company that already has a reputation for good projects and buildings and the road.
The new gate and road has been designed by Wood and Jepson who are the Consulting Engineers of the project.
The project is expected to be completed before the end of the 50th Anniversary year.
The new entry road and gate is part of a much larger effort by the University to improve its physical assets in the past 10 years.