Usamate urges global leaders to take steps to shift energy transition to next level
25 January, 2022, 6:30 am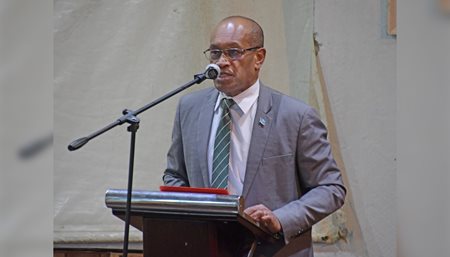 Fiji's Minister for Infrastructure, Meteorological Services, Lands and Mineral Resources Jone Usamate recently participated at the 12th Session of the International Renewable Energy Agency's (IRENA) Assembly – held virtually on January 15-16 in Abu Dhabi, United Arab Emirates.
The global meeting virtually brought together more than 1100 delegates from 137 countries, including Heads of State, Ministers, Heads of International Organisations and CEOs, and took place under the overarching theme 'Energy Transition: From Commitment to Action' – reflecting the growing need to translate bold ambition into concrete steps that accelerate the shift to a cleaner, fairer and more resilient energy system for our collective future.
"With every passing year the gravity of the challenge ahead of us strengthens," said Francesco La Camera- the IRENA Director-General.
"As we meet for this Assembly, we do so clear in the knowledge that 2021 established new benchmarks in ambition, commitment and renewable energy deployment globally. That momentum must serve as fuel as we head into the new year."
During his intervention, Minister Usamate had called on the global leaders and energy decision-makers to take concrete steps to shift the energy transition to the next level in the coming decade and accelerate actions at the speed necessitated by climate, energy and development imperatives.
He further stated that during the COP26 meeting in Glasgow, Scotland, Fiji together with Small Island Development States (SIDS) through the leadership of the Fijian Prime Minister have voiced their concern with the developed countries and heavy carbon emitters on the urgency to take decisive and concrete actions to reduce their carbon emissions.
Fiji's participation at the IRENA Assembly was supported through Fiji's Mission in Abu Dhabi, United Arab Emirates.
Fiji's Ambassador to Abu Dhabi Naipote Katonitabua reiterates that Fiji together with Small Island Developing States (SIDS) needs to continuously engage with IRENA and seek their expertise in formulating renewable projects to realise the targets in our Nationally Determined Contributions (NDC) for a greener, bluer and sustainable future and further advance our commitment to climate change and oceans.
With more than 180 countries actively engaged at the IRENA's 12th Session, IRENA promotes renewable resources and technologies as the key to a sustainable future and helps countries achieve their renewable energy potential.
The global event took place at the start of Abu Dhabi Sustainability Week (ADSW 2022), and it featured a high-level follow-up on COP26, with discussions included on the role of youth in the energy transition, and feature perspectives on the energy transition from parliamentarians and the private sector.
IRENA is an intergovernmental organisation that supports countries in their transition to a sustainable energy future, and serves as the principal platform for international cooperation, a centre of excellence, and a repository of policy, technology, resource and financial knowledge on renewable energy.