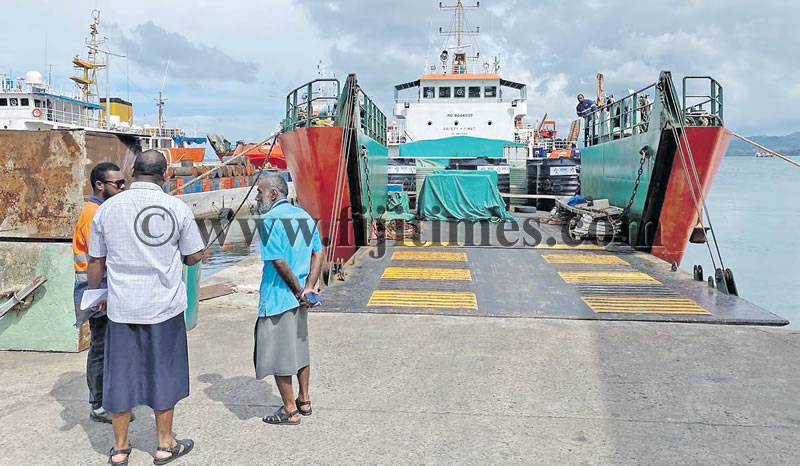 SEVERAL vessels have been assigned to deliver goods and transport Government personnel to areas affected by Tropical
Cyclone Harold on Monday.
Vessels that have been assigned are:
Interlink Shipping Lines Ltd's MV Ohana, Patterson Brothers Shipping Co. Ltd.'s MV Spirit of Love, MV Spirit of Harmony and MV Altruism, Government Shipping vessels MV Sigavou and Vatulawa.
According to the National Disaster Management Office (NDMO) the vessels were expected to arrive at their destinations
yesterday and officials are advised to prioritise distributing food and relief items to those affected.
NDMO said Government personnel who had travelled to those affected islands had already been screened by the Ministry of Health.
The vessels were to supply food rations and other immediate relief supplies needed by villagers who were affected by the tropical cyclone.
Three divisions that were affected by TC Harold were the Eastern, Central and the Western divisions.
For the Lau deployment, MV Ohana carried officials, relief items and supplies to the Lower Southern Lau including Ono-i-Lau, Vatoa, Ogea, Fulaga and Kabara.
The MV Spirit of Love had left for Yasayasa Moala including Matuku, Totoya and Moala Island.
For Kadavu, two Patterson Brothers Shipping vessels were deployed.
According to NDMO the MV Spirit of Harmony covered the South of Kadavu and it distributed supplies, food rations
and officials who would conduct detail damage assessment out on the island.
The MV Spirit of Altruism covered theEast of Kadavu carrying supplies, food rations and officials who would conduct
detail damage assessment on the island.
For the West, Vatulawa carried cargo to Yasawa and Mamanuca Group while the MV Sea Bus will carry officials who
will conduct detail damage assessment.
The MV Sigavou covered Vatulele, Beqa and Yanuca while delivering food rations, relief supplies and officials yesterday.
The government personnel are going to be involved in damage assessment, ration distribution and health treatment
for those who need it and the team will be deployed for 14 days.
Interlink Shipping Line Ltd managing director Ashish Kumar confirmed that the MV Ohana had reached Southern Lau.
Government Shipping vessels Vatulawa and MV Sigavou departed yesterday for Lautoka and Beqa.