Suva wins 2018 Skipper Cup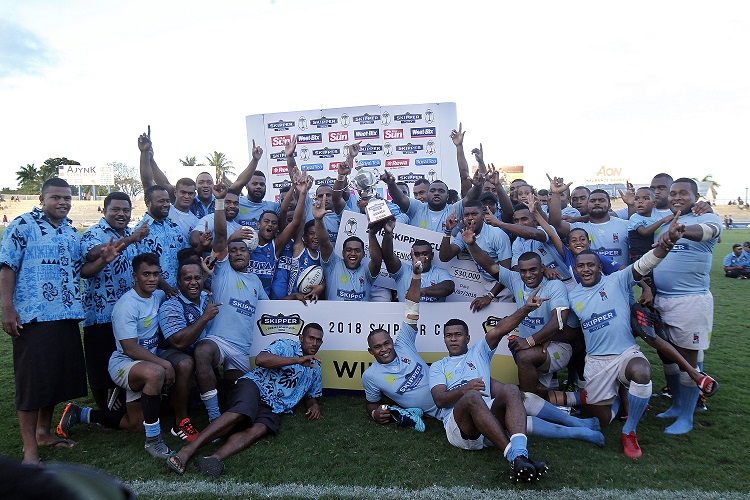 THE Suva rugby team made a strong comeback in the second half and stopped Nadroga's tenth-year reign in the Skipper Cup competition yesterday.
Host Suva created the upset of the day edging Nadroga 36-35 to win the Skipper Cup final at the ANZ Stadium in Laucala Bay, Suva.
The Esala Nauga-coached Nadroga side led during the half time break 28-10, but the Suva regrouped in the second half to secure the win.
Suva team manager Ulaiasi Verevou said the team followed what was told to them during the halftime break and stuck to the game plan that change the final outcome.
"The boys were told not to follow Nadroga's game pattern and play their own style of rugby," Verevou said.
"Coach Jope Tuikabe told them to make use of the forwards because we were heavier then Nadroga and they should close the game for the Stallions. "It paid off in the second half."
Nadroga captain Rupeni Nasiga said they gave the win away but it was not the end of the road for them.
"We led confidentially in the first half but silly mistakes and wrong options caused us the game," Nasiga said.
"We had the opportunity but we didn't make use of it, but I thank the boys for their effort because our journey towards the HFC Bank Farebrother trophy challenge began after the final whistle today (yesterday)." We were hoping to win the trophy this year to make it our tenth year consecutively but hats off to Suva for proving us wrong and they played a strong game against us."
The Peni Raidre-captained impact player Ratu Meli Kurisaru said the Stallions gave them a good run but at the end of the day their will be only one winner.
"I thank the Nadroga team for the good match and I thank all the supporters from both sides for their continuous support throughout the season," Kurisaru said.
"Even though I'm playing for Suva, my heart and soul is still with Nadroga and I thank both sides for the good and strong game and we look forward to the match against Namosi next week."
Next week, the Capital City side will travel down to Navua's Thomson Park to challenge the HFC Bank Farebrother trophy against title holder Namosi.