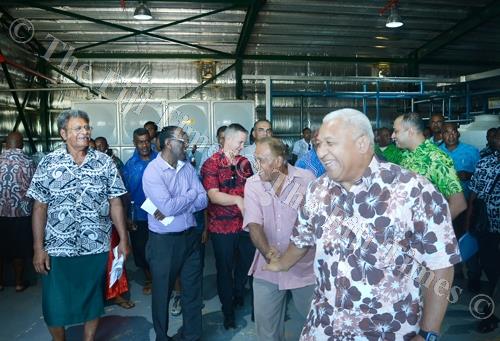 THE popularity rating for Prime Minister and FijiFirst party leader Voreqe Bainimarama as the preferred PM has taken a strong lead in our latest Tebbutt Times Poll.
Indicating a stark contrast of 33 per cent gap from the votes from Social Democratic Liberal Party (SODELPA) leader Sitiveni Rabuka who is second in the rating with 16 per cent – Mr Bainimarama's total rating of 49 per cent represents a strong comeback after a dropped rating of 34 per cent from 44 per cent he polled in our first survey conducted in February, this year.
The August survey found that Mr Bainimarama's name was mentioned three times three times as many people as the nearest competitor.
According to the poll, most of the FijiFirst leader's support came from the Fijians of Indian descent (63 per cent) and from the Western Division (52 per cent).
Mr Rabuka, on the other hand, has barely moved, only noting a slight increase in votes when broken into divisions and ethnicities.
Most of the SODELPA leader's support (27 per cent) came from the iTaukei and from the Northern/Eastern divisions (22 per cent).
The support for National Federation Party (NFP) leader Professor Biman Prasad dropped from 3 per cent in May to 2 per cent in our latest poll.
Most of Prof Prasad's support came from the iTaukei and from the Western Division.
Fiji Labour Party (FLP) leader Mahendra Chaudhry and Unity Fiji party leader Savenaca Narube polled 1 per cent support each.
Overall, the number of undecided voters has decreased significantly from May (35 per cent) to August (21 per cent), while there has been a marginal increase in those declining to answer (from 7 per cent to 9 per cent).
A significant 21 per cent of those eligible to vote are undecided, meaning that over one in five do not know who they would prefer to see succeed as Prime Minister.
The poll was conducted between July 31 to August 3 by internationally accredited market researcher, Tebbutt Research where 1003 adults ages 18 years and over were polled via computer-assisted telephone interview.
Methodology:
– Poll dates: 31 July to 3 August 2017;
– Sample: 1003 adults aged 18 years and over and eligible to vote;
– Margin of error: Plus or minus 3.1 per cent at 95 per cent confidence level
– Coverage: National;
– Method: Computer-assisted telephone interviewing and
– Question: If there was an election held in Fiji tomorrow, who would you prefer to see succeed as Prime Minister?