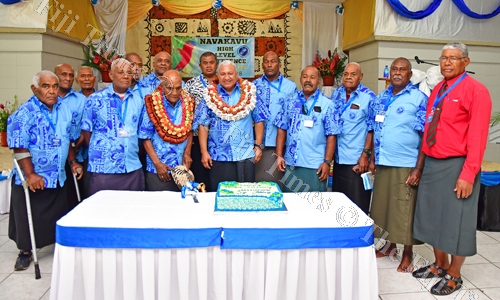 THE land is a source of prosperity and is no longer a political tool, Prime Minister Voreqe Bainimarama told the tribe of Navakavu in the district of Suva during the launch of the Navakavu revitalisation strategy for 2018-2022 at the Novotel Suva Lami Bay conference centre yesterday. Mr Bainimarama said the Government was assisting the iTaukei people become more financially powerful by developing their land.
With the theme "Resilient Navakavu — O Navakavu Qoi", chairman of the Navakavu trustees development committee Seveci Naisilisili said this localises the concept of talanoa.
"We are here together to participate and show the world that Fiji is not only helping build the successes at the international stage, but we are able to translate a revitalised talanoa setting here at the grassroots and community level to materialise the think globally, act locally actions," Mr Naisilisili said.
Mr Nasilisili said they were committed to working closely with the Government.
"The Prime Minister's presence here today demonstrates to Fiji and to the world that he is very engaged even at the grassroots and community level, that Fiji is walking the talk," he said.
Mr Bainimarama said Navakavu's revitalisation plan builds on the strategic blueprint laid out for Fiji's five-year and 20-year national development plan.
"Your revitalisation plan is a culmination of your vision, your priorities and your wisdom, and it is an incredibly important document, because real progress takes planning, like any good team, you need a game plan," Mr Bainimarama said.
"You need a guiding light and you need leadership that considers the long term and that prepares your people for success, now and in the years ahead."
Mr Nasilisili said the strategy was committed to two key principles, the principle of alignment and the principle of partnership.
"To this regard the plan is aligned both to the United Nations Sustainable Development Goals 2016-2030 (SGDs) through the Fiji Development Plan 2017-2021," he said.
Consultant Jovilisi Suveinakama said the financing of the strategic plan would cost more than $20 million.
"We have a lot of assets but no money at all, this is basically the beginning of the work to begin the co-ordination of the plan. What we want to do is basically get some money in our hands and what are the most important things to do but that will be decided by the trust," Mr Suvenikama said.
Navakavu has about 130 households with more than 900 people scattered over the five villages which include Muaivuso, Nabaka, Waiqanake, Namakala and Ucuinamono.
Navakavu is made up of seven clans — Natabuivalu, Waitabua, Nakaubeqa, Nasei, Laselase, Nabaramai, and Natodre — covering more than 14,500 acres of land, making Navakavu the tribe that owns the biggest area of land within the Rewa Province