Silver Ferns star doesn't want season to end with a bad feeling
10 October, 2021, 2:10 pm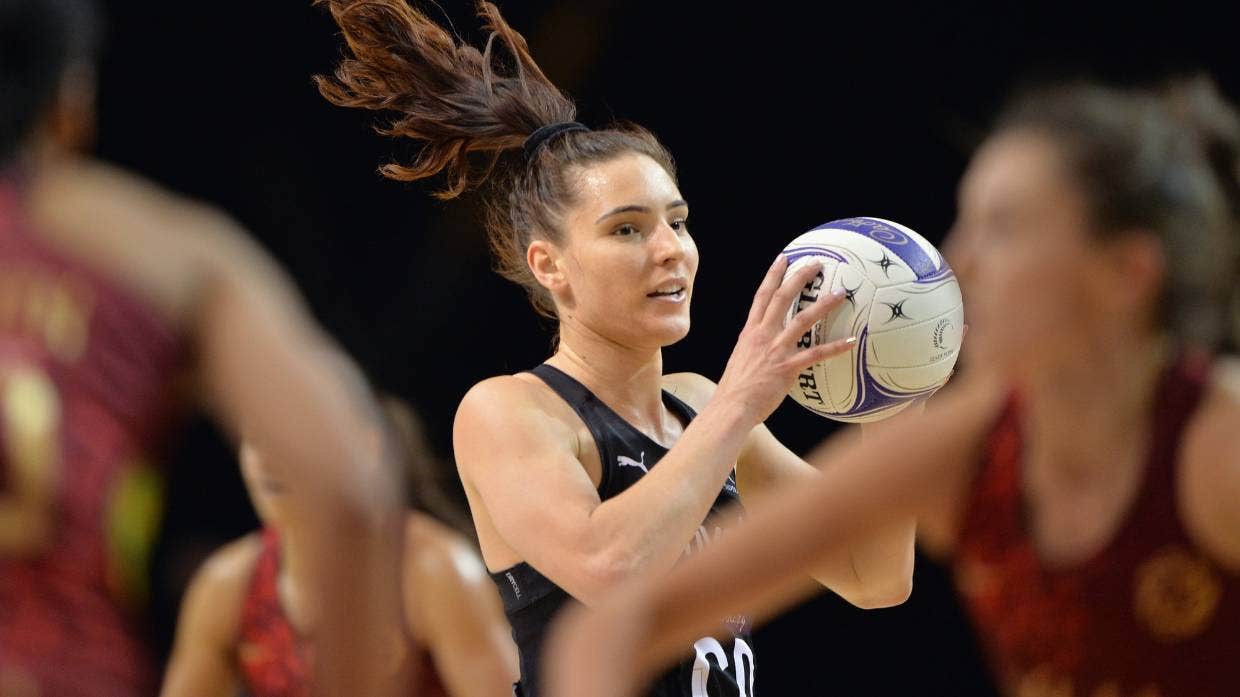 Karin Burger doesn't want to end her netball season with a bad feeling.
The Silver Ferns defender is aiming for a strong showing against the Aotearoa Men's team in their three-game series starting on Sunday night in Wellington, after the national women's side was beaten 2-1 by England last month.
New Zealand won the opening game in Christchurch and had opportunities to win the next two games – particularly the finale when they let a big lead slip.
"We've learnt quite a bit from the last series and that's not how we want to finish our year," Burger said.
"Our first game wasn't clean – it was messy, but somehow we pulled through. In the past we've had games like that, that aren't pretty but we dig deep to grind a win.
"The second game, they'd done their homework and brought it to us and we didn't adapt fast enough.
"The last game, that was the most disappointing one, knowing that we had it 'til halftime, and we blew it. That's not what we stand for and how we want to represent our country.
"It did not feel good at all."
Burger and her Ferns team-mates are grateful to play the three games against a men's combination they last met two years ago, after a planned series against fierce rivals Australia was cancelled due to the travel restrictions around the Covid-19 pandemic.
"Noels [coach Dame Noeline Taurua] mentions it quite a lot – we never know what opportunities we will have.
"It could be the last seen of us and the last prep[aration] heading into the Commonwealth Games.
"Over the last few years, we've learned that that's just the normal now. It makes us feel even more privileged to be doing what we're doing and to live in the moment even more so.
"In our meetings and planning sessions, we're constantly talking about how tomorrow can change, everything can change."
One major change for the 28-year-old this season was a new ANZ Premiership side, switching from the Central Pulse to the Christchurch-based Tactix.
"I really enjoyed it – a new environment, new people around me, making new friendships and building on my own personal skills as well. I think I've developed my off-court skills as well."
Taurua acknowledged some of the less-experienced players struggled in the England series, but Burger feels playing this year without the likes of star performers Ameliaranne Ekenasio and Jane Watson will stand the side in good stead.
"Over the last few years, Noels and [assistant coach] Debs [Fuller] have worked really hard at creating that depth for us.
"You get the bib and you're expected to perform; do your best and bring what you bring."
Burger expects the Aotearoa Men's team to challenge them with their unorthodox approach/
"Their physical capabilities different than what we're used to.
"They tend to play more aerial and longer ball – they don't do the shovelling the ball on, they look further down court. I guess there's opportunity to get more ball, and with the taller shooters and circle, we need to look outside – more of an opportunity for the team to look at defence, rather than just the last end.
"They're strong and physical and that's an element we can learn to play against."