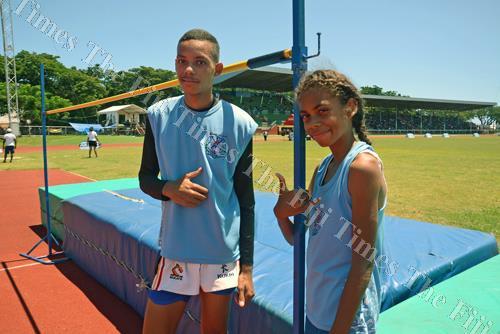 TWO Lockington siblings are on track to follow in the footsteps of their role model sister and national rep Shawntell Lockington.
Shawntell was not present at the Ba Zone meet as she was in Australia training for the Commonwealth Games.
Young Lisa and their brother Trivet helped Xavier College win the Coca-Cola Ba Zone at Lautoka's Churchill Park yesterday.
Lisa won gold in the sub junior girls high jump with a new height of 1.25m while brother Trivet accounted for a silver medal with a height of 1.50m in the junior boys high jump.
The duo said the achievement of their sister Shawntell inspired them to take up the sport.
As for Trivet he won and set a record in last year's Coca-Cola Games sub junior boys' high jump while for Lisa, this is her first year in the competition.
They said their elder sister always helped them in training and gave them a few tips about the event.
"I am happy to win the gold medal today and I will continue to work hard and follow in the footsteps of my sister," said Lisa.
"This is my first year in the competition and I will try and improve my training and better my performance during the Coke Games.
Gracious in defeat Trivet said he gave his best but was not enough to win him the gold medal.
"I really need to work hard to win a gold medal at the Coke Games," he said.
"This is my first year in the junior grade and I know it will be tough to win gold again.
"But it will not stop me from working hard in my aim to do better in Suva.
"My sister Shawntell is my role model and I will try my best and follow her footsteps and represent Fiji on the international scene." Trivet said after his competition.