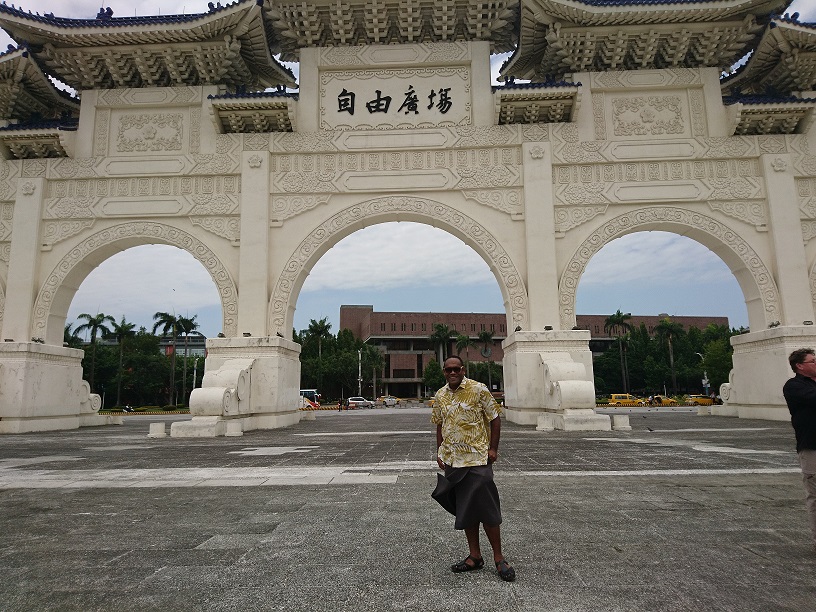 SOMEONE once said that travelling leaves you speechless and then turns you into a storyteller.
But when I was a child, I used to read books or rather browse through them and would go from page to page and get obsessed over faraway lands.
Only when I started travelling did I realise what the travel quote meant and as a writer/reporter I try my best to describe places and destinations to my readers.
However, there are just some things and experiences that are too beautiful to put down in words.
Last month on June 9, I departed our 300 islands in the sun bound for the island of Taiwan, formerly known as Formosa meaning "beautiful island".
I was chosen by my employer, The Fiji Times Ltd to be part of the media group from around the world that were invited to observe Taiwan's political and economic development for a week.
I was honoured to be the only reporter from Fiji let alone the Pacific to be on this tour which began with a visit to the Taiwanese Ministry of Foreign Affairs Minister, Jaushieh Joseph Wu on June 11.
We also had the privilege of visiting the Mainland Affairs Council, National Development Council, Chung-Shan Institute of Science and Technology, Taiwan Foundation of Democracy and the Central News Agency.
But the best part of travelling is that it allows you to see that the world is not always about you and during this travel it allowed me to see how other people live and what they have to deal with on a daily basis.
For me, travel is living — even if it means travelling locally here in Fiji.
It is seizing each day and making the most of every situation.
Travelling has humbled me and has broadened my perspective in so many ways.
To me, one of the most beautiful things about travel is the fact that every day is different. It brings back some adventure, excitement and exploration to people's lives but especially the places.
Our media group was billeted at the Palais de Chine which is a first five-star cultural hotel in Taipei — the capital, political and financial heart of Taiwan.
Taipei as I have been told is one of the most densely inhabited cities on earth and is a melee of motorbikes, markets, skyscrapers and temples.
And so during my short stay and very busy schedule in Taipei I was very fortunate to have visited some of the mind-blowing sites this city offers to its visitors.

Taipei 101
Regarded as the tallest building in the world between 2004 and 2010, Taipei 101 was designed to resemble a gigantic bamboo stalk and is impossible to miss when in Taipei. We got on lifts with speeds of 37.6mph, flinging passengers from the fifth floor to get to the 89th floor in 37 seconds. To get to the observatory, we headed towards the fourth floor of the Taipei 101 Mall where we passed high-end stores of the most expensive fashion brands in the world. We went as far as the 91st floor where there is an observation deck where visitors can go to and view Taipei City from a bird's eye view.
Chiang Kai-Shek Memorial Hall
Some of us had the privilege of visiting the Chiang Kai-Shek Memorial Hall which is one of the most prominent landmarks in Taiwan and is also one of the most popular destinations for tourists visiting Taipei. The Memorial Park which covers an area of over 240,000 square metres in Taipei's Zhengzheng District consists of three large buildings namely the Memorial Hall, The National Theatre and the National Concert Hall.
Pinglin Tea Museum
I love my tea and never did I imagine that one day I would visit a tea museum, let alone did I ever think that there existed such a thing as a tea museum. Located beside the Beishi River in Pinglin, New Taipei City, Pinglin Tea Museum presents the Chinese tea culture and is worth visiting for tea lovers. Pinglin Tea Museum has an abundant collection of materials on tea culture. And as for me I did really have a better understanding of tea history after visiting the museum.
Motorbike tsunami
One of the most impressive facts about Taiwan is the huge amount of motorcycles that are driven on the streets. I haven't been on one but they say travelling in Taiwan on two wheels is pure heaven. Sure, it comes with some dangers, but the rewards are worth it. Surprisingly, there are more than 13 million motorbikes in Taiwan for a population of 23 million people. I noticed that crosswalks at Taipei had special zones for motorbikes to wait, having preference over cars. Driving a motorbike has many advantages; they are cheaper than a car, they need little parking space, they allow you not to wait in traffic jams and they are as fast as cars inside the city. On the other hand, they also have disadvantages. The most important one is that they can be a little more dangerous.
Taiwanese food
Taiwan has probably some of best food in the world and Taiwanese food is a national obsession. With night markets, these are known for delicious food especially their street vendors. From fried tofu, soup dumplings, tian bu la and their pineapple cake, an edible souvenir to bring back for friends and family when returning from a trip to Taiwan just to name a few.
I also had the chance to visit the Kavalan which is Taiwan's first whiskymaker and the nation's only family-owned whisky distillery, the National Palace Museum and of course the night market.
My one-week adventure in Taiwan went by so fast — short and sweet but like they say all good things must come to an end. The week was a serious grind and simultaneously the most fun and challenging week so far in my entire life. I learned so much from this travel and the overall experience was invaluable.