Set academic goals achieved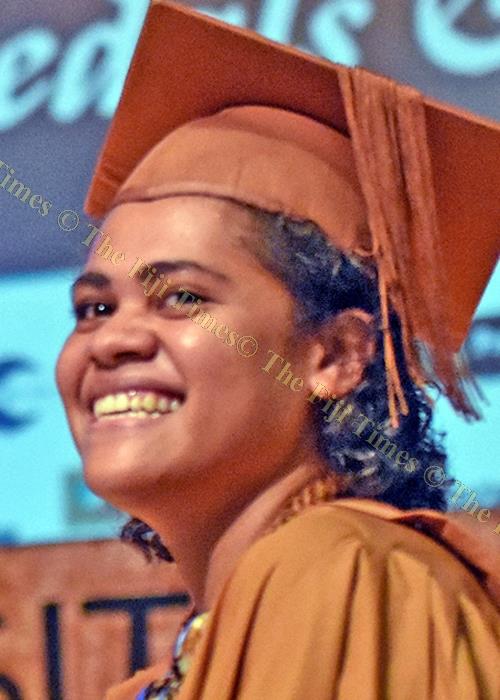 Perina Vocea, 21, set her goal and achieved it.
The challenges she overcame motivated her to attain a Bachelor of Arts Degree, double majoring in psychology and sociology at the University of the South Pacific in Suva yesterday.
To top it all off, Perina achieved the gold medal award for the Most Outstanding Graduate in psychology at the USP awards night on Thursday.
Life was definitely not a breeze for the Cakaudrove lass as she spent the first year of her university studies trying to get accustomed to the Fijian lifestyle after living abroad for more than five years.
Perina is the eldest daughter of Fiji's late ambassador to the European Union and the Kingdom of Belgium, Peceli Vocea. She said after the passing of her father, her life made an unexpected turn and she had to learn to pick herself up and follow on the route her father would have been proud to see her succeed in.
"I had just graduated high school in Belgium and I felt like I was at the top of the world. But then my dad passed away and everything took a 360 degree turn," she said.
"When I went into undergraduate here in USP, I didn't know anyone as people were in their own cliques from high schools and it was so hard."
She said watching her mother, Vasiti Vugakoto, strive to take care of her and her four siblings, motivated her to achieve high honours.
"She continued being our mother and trying to grieve over my dad's passing. So, I told myself I didn't want her to ever feel heartbroken again and as a daughter that motivated me to keep going.
"At the end, I am happy my family came to support me and having my mum happy and proud is more than what a gold medal's worth."
Also achieving academic excellence was 19-year-old, Raymond Ram, who scooped three gold medals after attaining a Diploma in Information Technology.
Raymond received the gold medals for the most outstanding graduate in the College of Science, Technology and Environment, the most outstanding graduate in Pacific Technical and Further Education and the most outstanding graduate in the Diploma of Information. He said the sleepless nights, hard work and studying had paid off and he was grateful for his achievement.
"I wouldn't have done all this without the support of my parents and tutors. Growing up and having a passion for computing, what I achieved today (yesterday) was testament of all the hard work."
He said IT was an interesting course to study as technology was constantly evolving.
Meanwhile, vice-chancellor and president of USP, Professor Rajesh Chandra said a total of 1774 students would graduate from USP this year. He said the number of graduates receiving certificates, diplomas and degrees in this round of graduation at the Laucala campus was an increase of 5 per cent compared with last year.