Service to the nation
12 December, 2019, 6:45 am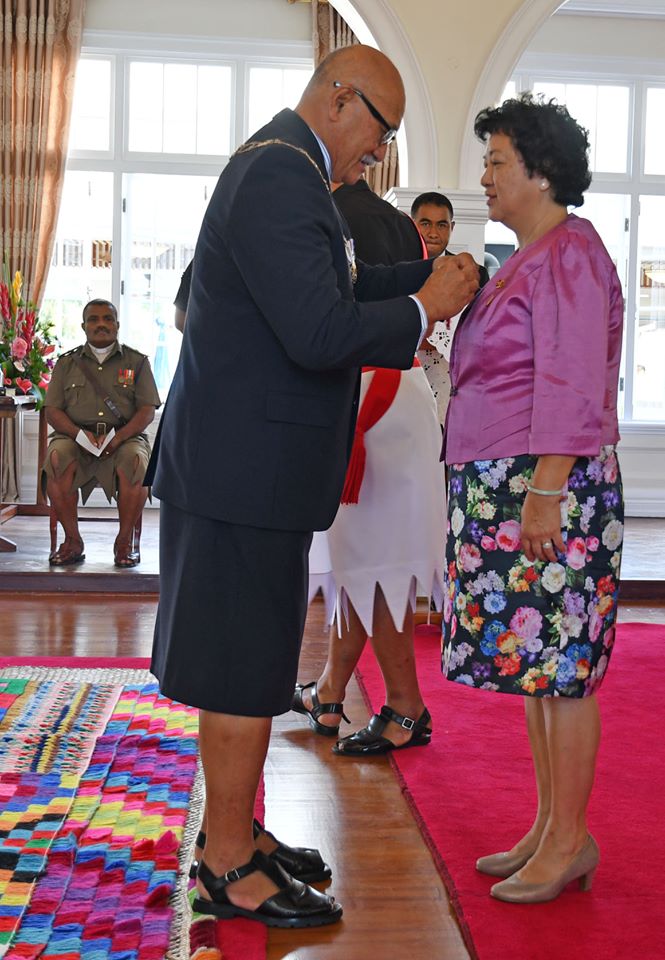 JENNY Seeto was awarded the Officer of the Order of Fiji last month for distinguished service of a high degree to the country.
She was awarded the honours during the Order of Fiji Investiture Ceremony held at the State House, Suva.
An emotional Ms Seeto said if her late husband Dixon Seeto former president of the Fiji Hotel and Tourism Association was still around he would've been really proud to see her achieve the award.
"I think he would be very proud, you know I started off as his apprentice," she said. "You know he started off doing a lot of community work and when we got married we did a lot of the work together.
"He is always there for me and hopefully I was there for him."
Mrs Seeto was lost for words when she was told that she was a recipient of the award. "I am very humbled and this is so unexpected.
"I would like to thank the president and the Fiji College of Honour.
"When we do work in the community you don't really expect to be rewarded it's just so satisfying when you're able to give back to the community and that was really my main aim."
"During his keynote address President Jioje Konrote requested guests observe a minute of silence in honour of the late Mr Seeto.
"I was so honoured that the president and the college of honour took time to give him the minute of silence it was very emotional for me I had a hard time trying to hold it together," Mrs Seeto said.
"You know its people like his excellency, along with the people around Dickson that really helped him achieve whatever he did in the community in his work for tourism and business."
She paid tribute to her husband for all his support towards the work that she was involved in both as a professional accountant and her work in the community.
"Both sides of the family, my family and my in-laws and everyone who I have worked with whether it was in my profession as an accountant or out there in the community and the board that I have worked with.
"The boards do give me a lot of satisfaction as well.
"I do sit on a number of boards, do some board advisory work but now I do more work in the community for example St Joseph's Secondary School I am the chair of that board, I am on Habitat for Humanities Fiji.
"So these are people that I thank they have invited me to their homes and into their lives so that I can make a difference to the community."