Road trial in Nadi
31 October, 2018, 11:00 am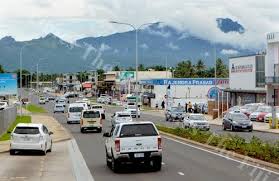 THE Fiji Roads Authority (FRA) has begun conducting local area traffic management in Nadi Town from Monday to address congestion issues.
In a statement issued yesterday, the FRA said the layout would complement the trials conducted at the Nadi temple roundabout recently.
Under the program, traffic on Queens Rd from Koroivolu Ave to Andrews Rd will be altered to one-way two lane travelling towards Denarau. Andrews Rd will be a one-way, two lane thoroughfare from Queens Rd to Raniga St travelling towards Prince Charles Park.
The entire length of Raniga St will be changed to one-way traffic in the direction towards Market Rd. Naitovo Lane, Sahu Khan Lane, Clay St and Market Lane will all be changed to one-way traffic.
The direction of travel on Baker Lane and Vunavau Lane will be reversed to optimise the new traffic flow. The FRA said in addition to the one-way system, the Nadi temple roundabout layout would be reconfigured to the previous trial layout.
"Motorists are requested to be conscious of this trial when entering Nadi Town and are requested to follow all posted temporary signs," said FRA. "The trials will be run continuously for two weeks commencing 29 October, 2018. For more information, please email info@fijiroads.org or call our toll free number 5720."