Rescuers ponder how to extract boys from flooded Thai cave as more rain due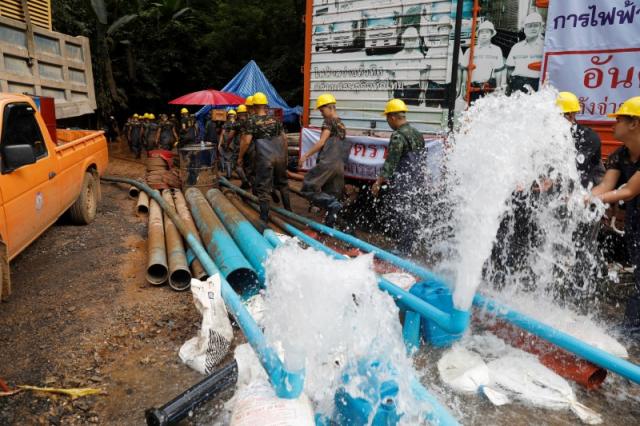 CHIANG RAI, Thailand (Reuters) – Rescuers in Thailand were no closer on Thursday to deciding when and how to extract 12 boys and their soccer coach from a flooded cave complex, where they were found this week, pale and weak but otherwise in good health, after nine days lost underground.
The dramatic search and rescue operation for the junior soccer team, who disappeared in the cave in the northern province of Chiang Rai on June 23, had seemed to be nearing an end when a team of British and Thai divers found the boys late on Monday, clustered on small, muddy bank in a flooded chamber.
But attention has now turned to how to get the group back out through several kilometers of dangerously flooded tunnels.
The navy has raised the possibility that the 13 could be in the Tham Luang cave in Chiang Rai province until the flood waters recede, at the end of the rainy season in four months.
But others say the boys could be out in a matter of days if the weather is on their side and water can be pumped out of the cave complex, and if they can be taught to use scuba gear.