Reddy tours villages in the West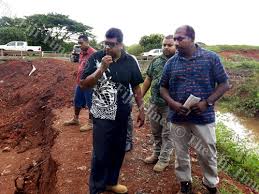 FIJI'S Minister for Waterways Dr Mahendra Reddy has begun a tour of villages in the Western Division where projects by the ministry were scheduled to take place.
Mr Reddy began his tour in the morning at Yako, Narewa and Navatulevu.
He also made a stop at Tunalia, the proposed relocation site of of Moala village.
According to the ministry, the relocation site is 10 acres of land near Swami Vivekananda College in Nadi.