Point of Origin: Ocean adventurer
24 January, 2022, 1:03 pm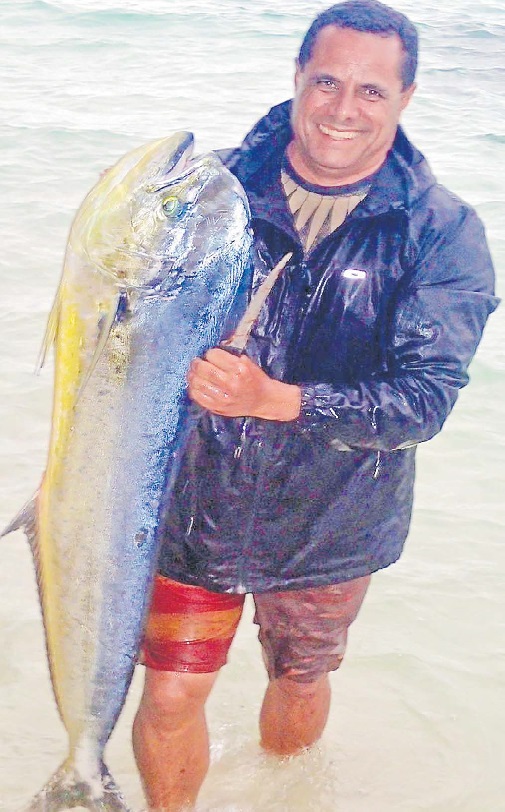 This is the continuation of the story of Colin Philp, the man behind the mission, with brother John Philp.
He was born on October 24, 1961, the eldest of Colin Ernest Philp and Ana Kafoisolomone Wainiqolo's three sons. His father had three wives during his life, and fathered a large family.
Colin Sr was an architect from Hobart, Tasmania and was a town planner in the 1950s.
"We were exposed to his thinking about the built environment and the wider world," said John.
Their old man introduced his children and encouraged them to think about adult concepts, and with an interesting set of friends from all over the world, the Philp children had learning opportunities during dinner time conversations with guests present.
His mother was the eldest daughter of a large family on Vanuabalavu, Lau well-versed and dedicated to her family and the role she plays in it.
"She takes a special interest in her traditions, knows all of our oral history, and instilled in us those lessons."
Colin grew up on the water. The family lived right on Draunibota Bay in Lami, and Saturdays were filled with activities on the water.
"If the swell was good we were already at the Suva Lighthouse surf break before the sun rose.
"We started surfing there around 1981, exciting times for teenage boys."
Later on in the day they would be sailing at the Royal Suva Yacht Club, racing dinghies or Hobie Cats.
"There was plenty to do, swimming to Mosquito Island, camping on the islands across the bay, building tree houses, and flying kites."
Later on Colin would cofound the Fiji Outrigger Canoe Racing Association, bringing the traditions of Va'a paddling to Fiji, even taking a team to the Moloka'i Hoe, the largest Va'a paddling competition in the world held annually in Hawaii.
School holidays were when the sailing got serious, with their father taking them on his yacht, Tau, on trips to Lau, Kadavu, the Mamanucas and even as far as Australia a couple of times.
"We did a lot of sailing." John said Colin, as a sailor, was at times gentle, and a perfectionist, influenced, coached and mentored by their elder brother Anthony Philp — from one of their father's earlier marriages. Anthony is an accomplished businessman and sailor himself, having imported the first Hobie Cats to Fiji in the late '70s, the first windsurfers in the early '80s and organised many international events along the way. It would have made no sense for Colin not to have gone on all the adventures he did.
"He had the seed of adventure in him, and he also had his own mind, stubborn is what some might call it."
John said Colin once stormed into the newly-opened Yacht Shop chandlery in Lami, where the Lami Oceania Wesley Church now stands, and declared to Anthony that he was starting work there and was leaving school early to do so.
"He eventually talked him out of it and Colin went back to complete his high school.
"Colin certainly had his own mind about how to do things, a family trait."
John also said that after a disagreement between their father and Anthony, Colin packed up and moved to Australia to live with his mother, but eventually decided to come back to Fiji because she was moving to Tonga within three months of his arrival.
"I remember the time he came home all scratched up and told our father he had just been in an accident with his new motorbike."
John said Colin bought a small car, which was handy for chasing girls, windsurfing with his mates, camping with their good friends David Watkins and Anton Lee, collecting bottles to raise funds for whatever project was going at the time. "He had a good circle of friends from school so was evidently popular, and a good friend."
Colin had a go at a few businesses ventures, opening the Wai Tui surf shop in Suva in the late '90s. Ahead of its time and in a very small market for the niche, but a cool hangout for surfers and anyone who had some interest in water sports. Unfortunately it was ransacked during the 2000 coup and subsequent march and looting of Suva. "In the end it probably went the way of many small businesses — not enough turnovers, and less than ideal gross margins.
"PFD Ltd, the lifejacket factory he co-founded with long-time friend Mike Towller, was very successful, and has contributed a lot to Fiji's export economy exporting many millions of dollars' worth of product to Australia, and employs 200 people now.
"His latest enterprise was Drua Marketing, a business dedicated to sustainable products like Simple Green biodegradable cleaning products, electric outboards and reef-safe sunscreen."
He ran Drua Marketing with his life partner Lee-Anne Lee. He said Colin had a legendary temper, but was too soft and kind for business.
"His staff all still joke about it, but they all loved him as well because he cared about them. "He needed a partner to watch the books and take an interest in that finer detail which many people ignore."
John said the two biggest infl uences in Colin's life were their father and brother Anthony.
"Our father owned successful architectural practices in Hobart and Launceston, Tasmania, and Fiji.
"He developed his own hotels, and designed and built his own 90ft yacht to sail around the world on.
"A cousin of ours in Tasmania told me recently that our father was part of a lobby group that eventually led to the government declaring the Freycinet Peninsula a national park on the east coast of Tasmania.
"His elder brother who introduced all kinds of innovations to Fiji, a very successful entrepreneur in many areas of business, marina developer, sports administrator, community leader and elite sportsman who completed the circumnavigation around the world on 'Tau' that our father never got around to starting."
He said Colin was the first Philp baby in that vibrant period that led to an independent Fiji, getting all of the love and attention from his young mother, with this entire buzz going on around him, must have instilled in him a tremendous confidence.
"If you imagine Colin growing up, as a three-year-old playing on the build site of the Tradewinds Hotel (now the Novotel Lami) which his father was reclaiming in 1967, and certainly he did not want for anything material, perhaps it was a natural progression that an intelligent human with some empathy who was confident of his place in it might read the world around him, and want to do something about improving it?" Anyone who knew him, or even just met could all agree that he was indeed a gentleman.
"He loved a good laugh and a joke, especially in that teasing way which westerners find different about islanders.
"And he certainly never said no when someone asked him for his time and free advice.
"A very gentle and compassionate and intelligent being who also had his human side, his faults.
"As a brother I only knew the gentle side, I was never on the receiving end of his temper.
"Only love and compassion."
Like all those that fl y away he leaves behind a family — his partner in crime Lee-Anne, his children Renee, Stephanie, Jason, Maria and Ryan, his grandchildren Cayel, Hayley, Leyla and Adonis, and siblings Mike, Janne, Anthony, David and John — and looking at what he did with his life, the way he touched and inspired so many, one can only hope the angels know what they have, or what they're in for.