Metal pipes on reef were hard to remove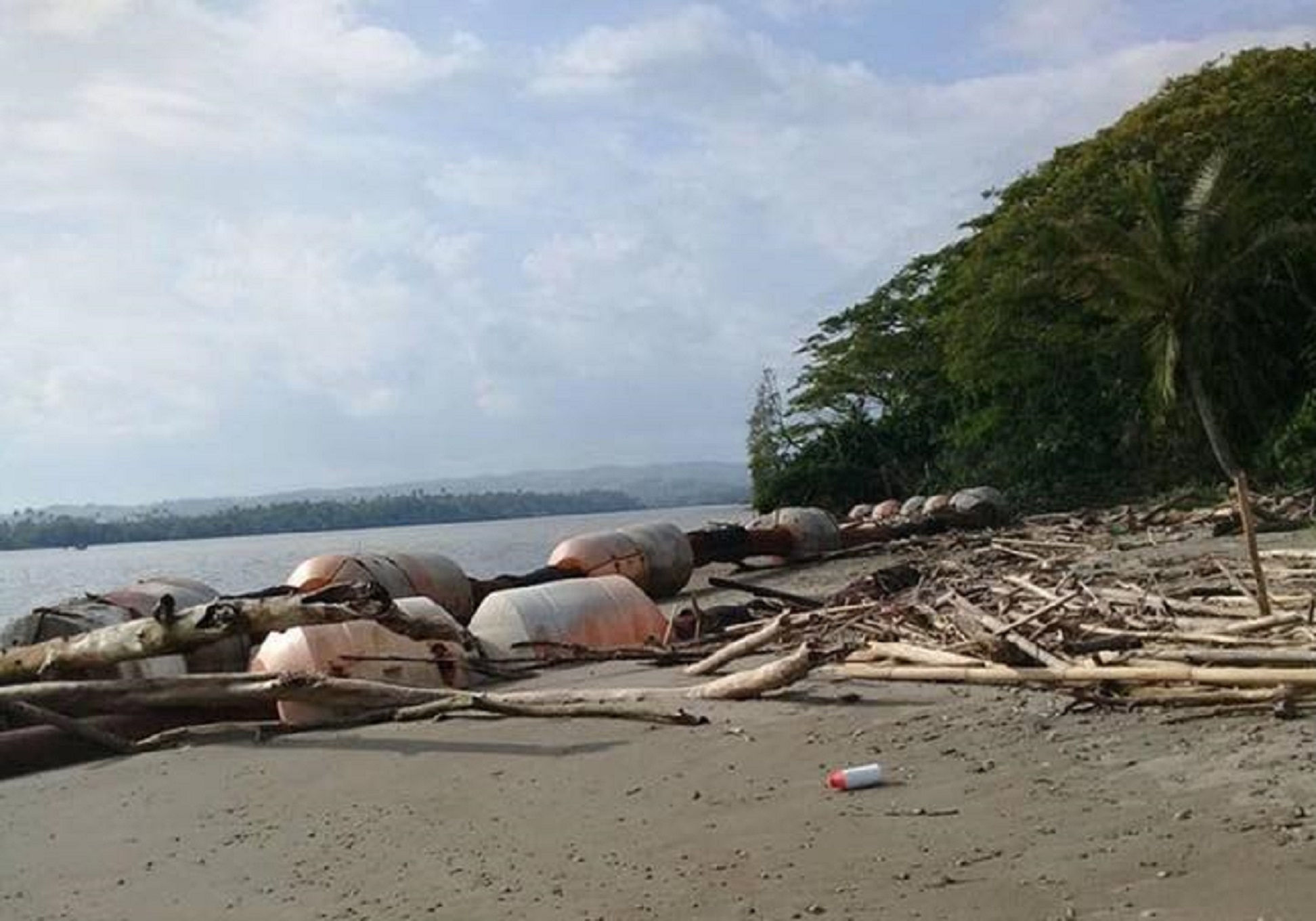 THE China Railway First Company sought the help of the Tikina Korolevu-i-wai to remove a 120m long metal pipe stuck on their Haravi reef since April.
Company executives said the structure, which drifted onto the reef after TC Keni passed, was not easy to remove.
Marketing Manager Ken  Xue said the company had worked hard to keep local resource owners aware of their works to remove the pipes and said some villagers have started to join the effort to clear the pipes.
Tikina Korolevu-i-wai spokesperson Luke Tabuhakia said the people of Namada, the village closest to the Haravi reef were frustrated that it had taken the company a long time.
Following complaints made by Mr Tabukahakia and local marine biologist Dr. Victor Bonito as to the presence of the metal pipes on the reef, CRFG officials met with local villagers.
"Ratou a kaya ni na tolu ga na macawa me waraki me ratou lesu mai na vailesilesi mai China. Ia qo sa mai lima saran a macawa, ratou sebera ni bau lesu tale mai vei keitou me ratou vakamacalataka se cava na leqa. (They had told us it would only take three weeks because they were waiting on their senior officials to return to Fiji from China. Its now been five weeks and they have not come back to us," Mr Tabuhakia said.
Dr. Bonito told Fiji Times Online the metal pipes continued to cause devastating damage to the reef.
He said the cyclone was not good enough reason for the damage.
Mr Tabuhakia echoed these sentiments and said the pipes which had been tied to trees on the Sigatoka River bank was not properly secured.
"Ni sa soli tiko main a varo ni drake, na cava ratou a sega kina ni vakarorog me vakai keda na kena von i lewe ni vanua, me ratou kauta I cake na nodratou I yaya ni cakacaka. (When weather forecasters were warning us all to move our belongings to higher ground, why didn't they do the same as the rest of Fiji)," the village elder said.
"Na nodratou sega ni kauwai keimami sa mai vakila qo na kena leqa ni sa mai vakaleqai na  keimami kakana, na neimami vurevure ni bula. (Their negligence is now costing us and will affect our food security and our livelihood.)"
Dr. Bonito agrees and claims CRFG do not properly dispose of metal equipment used in their $890,000 government funded project.
"Even after their pipe washed away, they did not take adequate measures to try and find it or to notify others that it had washed away so that others could be on the look out for it," Dr. Bonito said..
"Its highly likely that further significant damage will be caused during the process of removing the pipe from the reef, but we cannot comment further about this until we hear the company's plan for removal of the pipe."
The marine biologist who runs a local conservation organisation which specialises in reef health said the affected area is regularly made into a Marine Protected Area.
The stretch of coast known as the Coral Coast is well known amongst local researchers and conservationist and several villagers nearby have been the subject of studies designed to empower community driven environment protection.
"As this reef area is a traditional tabu area for qoliqoli owners in Namada, the damage caused by this pipe will continue to negatively impact the fisheries in this area and effectiveness of the fishing closure in place here for many years to come even after its removal," Dr. Bonito said.
"The site is only occasionally opened for fishing when there is a special village function, and the pipe has damaged the area and created rubble beds where nets are placed when traditional fish drives are done."
Meanwhile, in an email three weeks ago, Mr Ken said the company was doing its best and said it would take one week to complete.
"In light of the foregoing CRFG has made arrangements to bring in personnel with the appropriate skills and expertise to conduct the disassembling works," he said
"The personnel are envisaged to arrive into the country within the next week.  The works will take approximately one week from start to finish, weather permitting."
"Whilst we acknowledge that this may cause inconvenience and concern to the surrounding communities we would appreciate it if CRFG could be given the opportunity to conduct the necessary works to remedy the situation before this issue is made public only to prevent any unwarranted negative publicity against our organisation."
Company officials told Fiji Times Online that removal has been very successful so far and offered to take The Fiji Times to inspect efforts to clear metal debris used in its dredging works from both the Haravi reef as well as the Sigatoka River mouth.
See earlier story: