People's concerns can not be looked at in isolation: Parties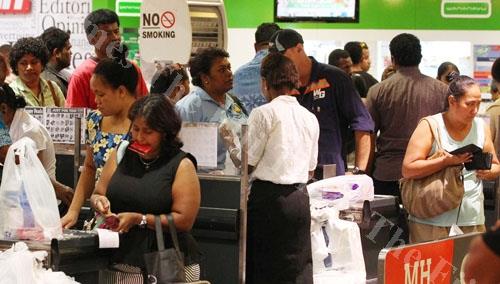 PEOPLE'S concerns on the cost of living, wages and unemployment can no longer be looked at in isolation.
That's the view of some political parties following the results of the latest Tebbutt-Times Poll which revealed that the cost of living, unemployment rate, and wages are the top "pressing issues" that the Government needs to address in the country.
Responding to the national survey which polled 1053 people, Social Democratic Liberal Party leader Sitiveni Rabuka said the variables of the cost of living, wages and unemployment were correlated.
"These variables are interdependent or correlated. When there are employment opportunities, then people have a choice. Since there is limited employment opportunities, people have to be content with what is available despite low wages," Mr Rabuka said.
He claimed that the poll results confirmed the feedback he had received from ordinary Fijians during his visits around the country.
"The results of the poll are consistent with our observations in urban and semi-urban areas. For those in our rural areas, farming opportunities and rural development are bigger issues.
"For landowners, land leases, the continuing lack of consultation by government with landowners and fair rent continue to be a challenge."
National Federation Party (NFP) leader Professor Biman Prasad claimed that the poll result confirmed the failure of the Government to alleviate the hardship of its people and reduce the rising cost of living and creating decent employment opportunities for the people.
"The fact that 50 per cent of those polled listed the high cost of living as their main issue followed by wages and unemployment means the next Government after the general elections needs to tackle these issues immediately upon taking office," Prof Prasad said.
He claimed that since 2006, food prices have increased by approximately 65 per cent, heating and lighting had increased by 60 per cent and transportation had gone up by 50 per cent.
"All households have been affected because while cost of living rose, incomes have not kept in pace in most sectors across the economy."
Fiji Labour Party (FLP) leader Mahendra Chaudhry said from the poll results, it was clear that government's "handouts" and "freebies" were not creating the needed employment and bringing down the cost of living.
"We have to strike at the root causes of our mounting social problems. For instance, while cost of living continues to rise significantly, wage rates have been kept deliberately low, making it impossible for the majority of our families to make ends meet," Mr Chaudhry said.
"Government's national minimum wage of $2.68 an hour or $117.92 per week has been severely criticised as being way below the current basic needs poverty line. It is starvation wages," he claimed.
Request for comments on the poll results was also sent to the FijiFirst party, Unity Fiji and the Freedom Alliance party via electronic mail (email) on Wednesday.
The parties did not respond when this edition went to press last night.
A resounding 50 per cent of those polled picked cost of living as a "pressing issue" for Government followed by unemployment rate (31 per cent) and wages (28 per cent).
Those polled were asked: Overall, what do you think are the three most pressing issues for Government; and, l What about for you personally and people like you — what are the biggest issues that you are facing in the coming years?
Apart from the three top pressing issues, those polled also mentioned education (14 per cent), land issues (13 per cent), infrastructure (12 per cent), health (11 per cent), and poverty (10 per cent) as urgent issues that the State needed to address.
According to the poll, education was mentioned twice as often by those in the 18-29-year age group (21 per cent) than older respondents (11 per cent).
Also, farming and rural development (8 per cent) was a bigger issue in rural areas and in the Western Division, and crime was mentioned by 7 per cent of those polled.
Topics named by 5 per cent or less were disaster assistance, unity, the economy, the environment, corruption, good governance, political stability, welfare, and human rights.
A total of 5 per cent claimed there were no pressing issues, while 2 per cent were either unsure or declined to answer.
When asked about the issues facing people personally, the top five issues were the same – cost of living (38 per cent), wages (24 per cent), unemployment (21 per cent), education (9 per cent) and land issues (9 per cent).
Mentions of education (including scholarships and dropouts) were significantly higher for iTaukei respondents (12 per cent) than those identifying as Fijians of Indian Descent (5 per cent).
Other topics mentioned by more than 5 per cent were crime (8 per cent), infrastructure (8 per cent), health (7 per cent), and poverty (7 per cent).
Issues mentioned by 5 per cent or less were the environment, political stability, unity, disaster assistance, the economy, farming and rural development, corruption, human rights, welfare and pensions, and good governance.
A total of 17 per cent claimed they were not facing any issues personally, while less than 1 per cent gave no answer.
The poll was conducted through computer-assisted telephone interviewing.