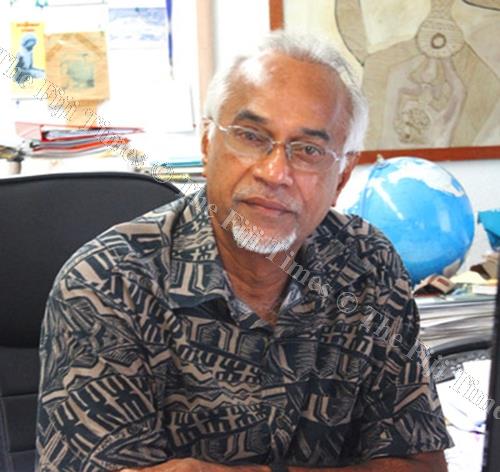 GOVERNMENT'S prioritisation and resourcing of education in the country is paying dividends, says University of the South Pacific academic Professor Vijay Naidu.
Analysing the result of the February Tebbutt-Times Poll where those surveyed have ranked Government's performance in the area of education as positive, Prof Naidu said the free-fee education, transport subsidy, and textbook scheme have all contributed positively to people's perception.
However, Prof Naidu did not agree with the sampling of the poll as those interviewed had no immediate kin attending primary, secondary or tertiary education institution.
"If they are not parents or teachers or students then their knowledge regarding education is likely to be limited, distorting the overall outcome of the survey," he said.
"In this regard, one wonders what the survey findings would be if only teachers and students were interviewed."
Prof Naidu said by contrast, in certain rural localities where mainly iTaukei resided, there were severe issues regarding transportation to schools, poorly maintained roads, crossing creeks and rivers, and boating.
"And sadly, school facilities and quality of teachers are not satisfactory. This may explain the ethnic differences in response.
"The loss of affirmative action measures for disadvantaged communities could be another factor in some of the negative responses.
"For those respondents in the know of Government educational policies, there would be some negative comments regarding frequently changing policies including that of putting teachers on contract."
He said according to the poll, there was general concern about the quality of teacher training at all levels of the educational system.
University economist, Dr Neelesh Gounder said despite being beset with a climate of hurried reforms and sudden changes, the opinion poll rated the Government's performance in education very positively.
"Apart from the 81 per cent who say the Government is doing a very good or good job, almost half have also identified no major challenges or issues facing the education system," Dr Gounder said.
"There is a high probability that the poll would have picked up accessibility to education as Government's performance in education rather than the quality of education."
He said opinion polls could be misleading when people had to judge difficult policy choices in terms of outcomes which were yet to be seen.
"Judging policy based on output is not the same as judging it on outcomes.
"It is easy for the general public to relate issues such as provision of teachers, per capita grant and busfare scheme for children from low income households as the whole education system.
"However, the provision of education involves a multitude of factors. The poll does not provide a breakdown of factors such as policy formulation and implementation, curriculum development and monitoring of school processes."
The poll asked people what were the major challenges and issues facing the education system and how would they rate the Government's performance in the area of education.
For those naming an issue, 9 per cent mentioned access and transportation, 6 per cent mentioned the need for more resources for teachers, better qualified teachers and more funding for schools, 5 per cent mentioned lack of financial support from Government for community and upgrade facilities.
Also 4 per cent mentioned issues or changes to the curriculum, 4 per cent said there were issues with the education system (too many changes, needs improvement, problems with the ministry), and 4 per cent said issues with student discipline.
However, 49 per cent of those polled said there were no major issues, and 10 per cent were unsure.
On Government's performance in the area of education, many rated it positively. A total of 54 per cent said the Government was doing a very good job, and 27 per cent said it was doing a good job, creating a net approval of 81 per cent.
Only 7 per cent gave a negative rating (5 per cent not a very good job, and 2 per cent a poor job).
A total of 9 per cent said the Government was doing an average job, while 2 per cent were undecided.
The poll was conducted in February with 1046 persons from around the country surveyed via telephone interview.
*Reactions from political parties tomorrow