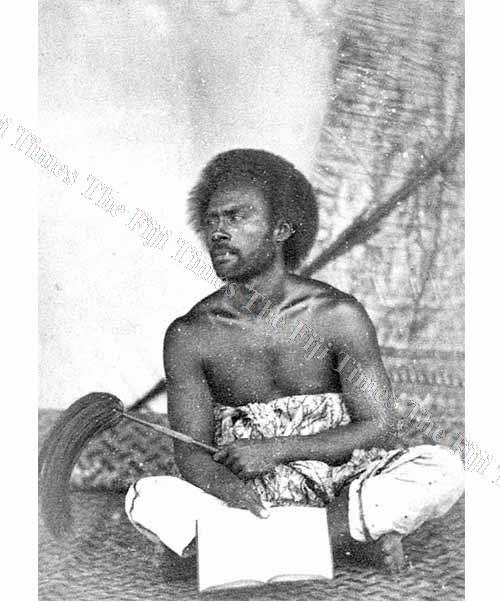 Have you ever asked yourself, and others, where our famous song of farewell came from?
This was the question raised to a Tongan noble in New Zealand back in 1962. For many years, the rivalry over where this song came from had been a bone of contention between Tongans and Fijians.
One version holds that the late turaga bale na Tui Nayau, Ratu Tevita Uluilakeba, composed the song in 1916 for Adi Litia Tavanavanua (1900-1983), when she visited Tubou, Lakeba, in 1916.
While the Fiji Museum revealed Uluilakeba's manuscript showing he composed the song in 1918 while he was in training as a civil servant in Suva. Tevita Uluilakeba was the father of Ratu Sir Kamisese Mara, the former president and prime minister of Fiji.
On January 18, 1962, The Fiji Times interviewed the Tongan Crown Prince and Premier, Prince Tungi who supported the Tongan noble, Hon Tuivakano who said the song originates from Tonga.
Prince Tungi said Tuivakano — then named Siaosi Kiu — was one of a group of singers who formed part of the retinue of his father, the late Prince Tungi, consort of Queen Salote.
"The singers were in some ways like the ancient troubadours," Prince Tungi was quoted as saying. "They sang about the happenings of the day, carried messages in song, and composed words and music suitable for events as they occurred."
When Prince Tungi's father became engaged to Queen Salote, Tuivakano wrote a song of love in honour of the occasion.
Soon after, it was said, Ratu Tevita Uluilakeba, the Tui Nayau at the time, heard the song sung by the Tongan visitors to Fiji.
"The story as I have heard it," said Prince Tungi, "is that Ratu Tevita asked Inoke Sateki, then a forestry assistant, to write Fijian words to the same tune in honour of a young woman of rank who was living in Fiji.
"In Tonga the song is invariably sung with the Tongan, and then the Fijian words," Prince Tungi added.
"Only in Fiji is it sung with the Fijian words alone."
The Tongan love song was known then as "Ise isa viola lose hina" in memory of the then Princess Salote (later Queen Salote) of Tonga.
Matters were put to rest when the late Tui Nayau himself confirmed to The Fiji Times the actual story. Over a radio telephone link from Lakeba, Lau, Ratu Tevita said the music originated from Tonga but he wrote the iTaukei words.