OPINION: On a rugby journey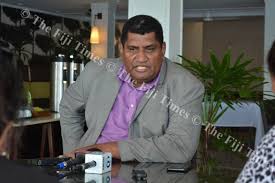 This is the second part of the three-part series behind the scenes of Fiji Rugby Union interviews  with chief executive John O'Connor and chairman Commander Francis Kean on their rugby journey.
We understand you were chairman of Suva Rugby Union prior to moving across to FRU?
O'Connor: I joined the National Fire Authority (NFA) in April 2012 and at that time NFA had two teams in the Suva Rugby Union competition (Senior A and Koroturaga) as such I became one of members of the Suva Rugby Union.
I got nominated and elected to be the chairman and to run SRU in 2013 and was in the capacity for two years until 2015 before being elected to the Fiji Rugby Union Board in the 2015 AGM.
It was interesting leading the Suva Rugby Union and my time with the Suva Rugby Union was based on service and building relationship.
My family and I were usually at Albert Park or at the stadium every Saturday morning at 6.30am putting up goal post pads and ground flags and ensuring everything was ready for the first club games which usually kick off at 830am.
I would like to thank Miti, Koto, Nakaruru, Peni and others who were the backbone of our committee. We were able to build good rapport with all our clubs, match officials and more importantly with our sponsors.
Financial diligence was very important, and every single cent had to be accounted for with relevant receipts and when I left the union, SRU was in a very good financial position.
What drove you to apply for your current post as CEO FRU since you were seating comfortably as CEO NFA at the time?
O'Connor: When I joined NFA in 2012, we were struggling financially so we had to undergo a lot of changes and reforms. I was fortunate to be at the then Fiji Electricity Authority now known as Energy Fiji Ltd when it was going through the reforms and I learned from there what needed to be done to turn around an organisation. I had set myself a few career and personal goals and this included becoming a CEO by the age of 45 years and to complete a PHD by the age of 50 years.
Before joining NFA, I had completed two Masters Decree (MBA and Governance and was doing the third one on OHS).
Joining NFA was the opportunity to achieve one of my goals, but also to implement all the learning from my studies and more importantly from my time at FEA.
I am still working to achieve my PHD goal. The current CEO of EFL taught me that saving every single cent mattered. We had to make tough decisions early in NFA and with the support of the management and the men and woman of NFA,
We were able to implement reforms and changes and by 2015 we were able to turn around the image and financial performance of NFA. We were building new fire stations, bought fire trucks, protective equipment, firefighting equipment, uniforms, but most importantly was revolving to becoming a more customer focussed organisation.
By the end of 2015, we had also strengthened our financial position and had about $10m in our bank account compared to zero in 2011.
As discussed above, I was elected to the FRU board in April 2015. Being in the FRU board for almost one year allowed me to better understand the challenges Rugby House was facing and also at the same time see the great opportunities and the huge potential.
We were struggling financially and as chairman had highlighted living from pay day to pay day.
In 2016, when the position of the CEO Fiji Rugby was advertised because of my passion for rugby and the firm conviction that I would make a difference, after discussion with my family, I decided to apply for the job and see how it would go without any expectation. We were happy at NFA.
I went through the interview and was grateful to be offered the job.
However, I had to convince my family prior to accepting the job because what was offered was lower than what I was receiving at NFA, which meant rearranging our priorities.
I am thankful to my family for their support and for their sacrifice in supporting my decision to join FRU. I had managed with the support of the team at NFA, to transform NFA and was confident that I would be able to do the same in FRU. We were at the bottom of the barrel and the only way was up. This was my opportunity to represent and contribute to Fiji Rugby.
I had played the game I loved and was passionate about for almost 30 years both locally and abroad and this was my opportunity to give back to this beautiful game. Apart from my passion, an advantage that I have was that I had played or was a club or union administrator for several unions including Suva, Nadi, Lautoka and have close relationship with the Nadroga Rugby Union.
I am happy that I took this challenge and brought along with me from SRU and NFA, the same zeal to serve and thank the board and the FRU staff members for their support. We have come a long way to where we are today.
FRU was involved in two bids for the World Rugby Sevens Series and with Super Rugby. Explain the process, success and failure of these two bids?
O'Connor:  When I joined in 2016, the board had set a few key priorities that were important in our journey of change and reform
 We had to strengthen governance in FRU;
 We needed to review our domestic competition and ensure alignment of all rugby in Fiji from Kaji to international rugby;
 We needed to turn around our financial performance and ensure long term financial sustainability through new and increased sponsorship and grants;
 Continue to support grassroot rugby since the board was of the firm view that if we build a strong base in grassroot rugby level, we will be competitive at all international level competitions;
 Focus on improving player welfare and pathways;
 We need to support the growth of woman rugby and create a domestic competition for girls and women; and
 We needed to become a member of the World Rugby Council.
These were sort of quick win gains that we could capitalise quickly upon.
We worked really hard to build and strength our financial position and as we built a strong financial base, we were able to invest in the recruitment and engagement of professionals in our commercial, marketing and communications departments who were instrumental in the rearranging and signing on of new sponsorship into our sponsorship portfolio further strengthening our financial position.
In 2017, World Rugby called for bids for the hosting the HSBC World Rugby Sevens Series. We were the Olympic and world champions in 7s and after discussions with WR, the board endorsed that we submit a bid to host a leg of the HSBC 7s series from 2020.
We put together a bid team of Brian, Greg and I and engaged with firms such as Witekite, HLK Jacobs, Conway Beg, Populis and others to put together a formidable and professional bid. Our bid was based around bringing the HSBC 7s tournament back to the home of 7s.
WR acknowledged that we had submitted a very professional and competitive bid and after several site visits and presentations, WR decided to maintain the current format of the seriet due to player welfare reasons as our bid was unsuccessful.
We were also invited by SANSAAR to submit a bid for Super Rugby Team based in Suva. SANSAAR acknowledged that we had submitted a very professional bid, but unfortunately declined our bid.
SANZAAR already had plans to reduce teams in the Super Rugby competition and the financial model proposed by SANSAAR where we had to meet all our own cost of participation, operation, travel and accommodation, contracting of players and a licence fee of $US5 million made the financial model of our participation and to maintain a professional Super Rugby team unsustainable since we needed about $F25m per year to break even.
While our bids were unsuccessful, it was a great investment and a win for Fiji Rugby because we now have the competency and have gained a better understanding of the standards that is required for such global bids. We also have formed strong bonds with professionals and organisations in this space who have great passion and love for Fiji and Fiji Rugby and are willing to assist in similar projects at a drop of a hat.
 Vashneel Prasad is the Fiji Rugby Union media officer.