No record of how Bougainville funds used, says PM O'Neill
8 September, 2018, 12:40 pm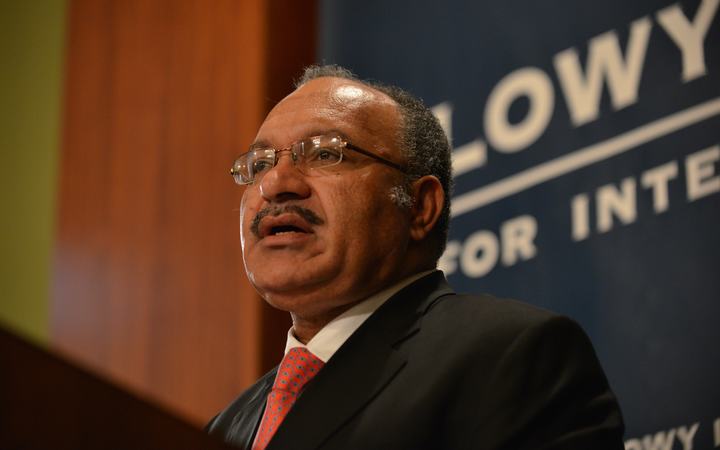 PORT MORESBY,08 SEPTEMBER 2018 (THE NATIONAL) – Papua New Guinea Prime Minister Minister Peter O'Neill, pictured, says they have no record how the Autonomous Bougainville Government has spent K200 million (US$61 million) of its Special Intervention Fund (SIF).
"That's why we are withholding the balance of K300 million and spending it on infrastructure project on Bougainville," he said.
"One of the projects that we had used the funds on was the reopening of the Aropa Airport."
O'Neill said he did attend the joint supervisory meeting in Arawa and Port Moresby but could not recall agreeing to a commitment of K437 million (US$134 million).
"But I'm aware of the ongoing projects. The only commitment I'm aware of was in 2010 which the SIF K500 million(US$153 million) was committed to.
"I think the first K200 million was passed through to the Autonomous Bougainville Government and ABG managed those funds for projects on Bougainville.
"Unfortunately, the national government did not see much of the output from those funds on Bougainville. So in subsequent JSB meetings, our national government pushed to propose to Autonomous Bougainville Government that let's redefine the utilisation of the SIF of which, I think, there is a balance of K300 million.
"With that K300 million(US$92 million), we have been jointly implementing some infrastructure project on Bougainville. And of this project is the reopening of Aropa Airport and sealing of the Buka town ring road.
"So there are some funds under SIF that are still to be exhausted and once those funds are exhausted, we will enter into a new programme with ABG .
"But I want to let the House know that bulk of the SIF are being used to build the road from Arawa to Buin. Although the releases of funds are slow, work is continuing.
"I have advised the Works minister to increase the funds. Also we have allocated a contract to a local contractor to work on the Kokopau to Arawa road.
"We used Japanese International Cooperation Agency (Jica) funding and we have finished all the bridges programme along that road and our aim is to start sealing of that road."