Niko Jones, son of All Blacks legend Michael, joins Moana Pasifika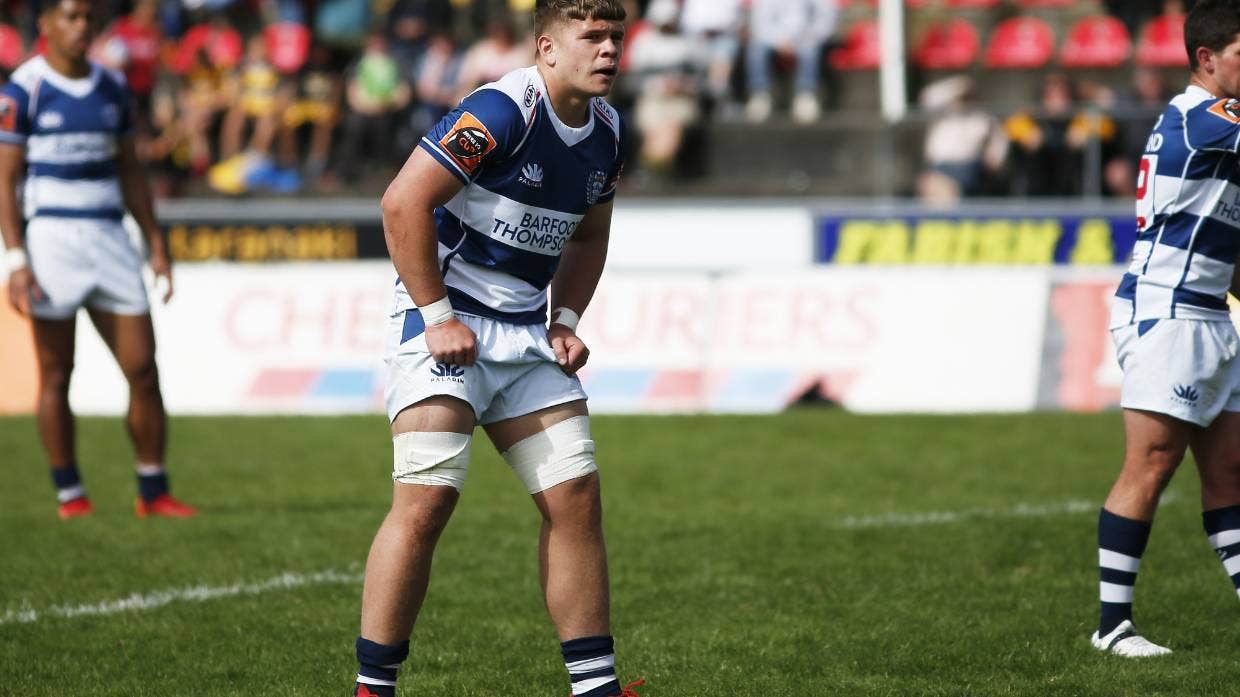 The nascent rivalry between Moana Pasifika and the Blues has taken a step forward after Sir Michael Jones' son, Niko, joined up with the Super Rugby newcomers.
Niko Jones is a rising flanker who has played for Auckland at NPC level and has previously trained with the Blues, but Moana Pasifika coach Aaron Mauger has wasted no time in bringing him into the Moana Pasifika as injury cover for the start of their pre-season training at Mt Smart Stadium.
The 21-year-old missed out on Moana Pasifika's full squad – which is well populated with more experienced loose forwards – while the Blues have invested in young German-born flanker Anton Segner.
However, the attrition rate among loose forwards in Super Rugby is such that injury-cover players frequently get game time as the season unfolds.
A Moana Pasifika spokeswoman confirmed to Stuff on Thursday that "Niko is one of a couple of players we've brought in as injury cover and are assembled with the squad this week", and photos on Moana Pasifika's social media channels showed him taking part in training drills.
The other player is standout Waikato No 10 D'Angelo Leuila, who was unlucky not to land a full Super Rugby contract after steering the Mooloos to the NPC Premiership title last year.
All Blacks legend Sir Michael Jones, played a key role in getting Moana Pasifika off the ground, and is also the chairman of the Moana Pasifika Charitable Trust.
After Niko Jones emerged as a schoolboy rugby star for St Peter's College, he knocked back offers from around the country to sign with Auckland on a two-year deal.
At that stage, it appeared that his graduation into the Blues was a foregone conclusion, and he trained with Leon MacDonald's side 2020 and 2021.
However, the arrival of Moana Pasifika has increased the options for young players of Pasifika heritage and Mauger has made no secret of the fact that, in time, Moana Pasifika would pursue the best young Pasifika talent.
Intriguingly, Moana Pasifika are scheduled to host the Blues in the opening game of Super Rugby Pacific at Mt Smart Stadium on February 18.
There are hopes that a genuine rivalry will develop between the two sides, although there will inevitably be tensions if they are competing for the same pool of talent.
Blues chief executive Andrew Hore told Stuff in November that it was important both of the new franchises – Moana Pasifika and the Fijian Drua – were as competitive as possible right from the outset, though he recognised they had faced difficulties around the Covid landscape in forming their inaugural squads.
"The Kiwi derby fixtures are still the No 1 pick with fans but who knows over time where this goes," he said of the new cross-town rivalry. "They have developed that team to give them the high-performance environment they need in New Zealand, so hopefully they can be strong straight off the bat.
"We need all teams in this competition to be competitive."