NFA begins investigations on CWMH fire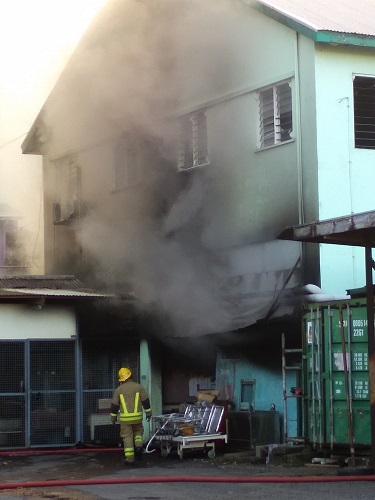 THE National Fire Authority will begin their investigations into the fire at the Colonial War Memorial Hospital's boiler room this morning.
NFA chief fire officer Qionilau Moceitai said they would only then be able to ascertain the cause of fire.
He confirmed that the Suva Fire Station received a call at 16.07pm and were at the scene by 16.13pm.
However, by then, he said, the boiler room had already been fully engulfed with flame, but they were able to contain the fire and stop it from spreading to the laundry area.
"We were also able to extinguish the fire at the bottom level where the boiler is. It didn't go up to the laundry room so we were very lucky," he said.
"At the moment, we have cordoned the area until we do our investigations tomorrow morning. Today we are just concentrating on trying to extinguish the fire, we haven't checked whatever is in that area. There might be a gas tank inside, but we don't know yet."
Twenty firefighters and three fire trucks from the Suva and Valelevu Fire Stations were part of yesterday's operation.
Meanwhile, the Fiji Police Force confirmed close to 100 police officers were deployed to CWM Hospital to assist with the evacuation of patients.
The officers consisted of new recruits, officers from the Police Special Response Unit, Southern Division personnel and officers from the Criminal Investigations Department.