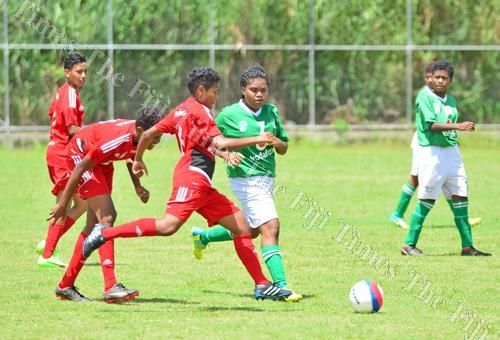 THE Navua under-18 women's football team wants to be remembered as one of the best sides in the country.
The members want to become the first team to win the national crown at the end of the ongoing season.
And the players also want to be selected into the national side for next year's Ocenia Football Confederation (OFC) U20 Women's Championship.
Team captain Kelera Radinicalia said the players were ready to face any team after winning two consecutive games in the ongoing Vodafone U18 Girls League in Suva.
"We have a good team," Radinicalia said.
"Team bond is very strong and we're hoping to play tough teams like Rewa and Suva."'
The Deuba lass said they would work hard to have some reps in the national side for next year's OFC World Cup qualifiers where Fiji hopes to come out victorious.
"We are grateful to Fiji FA for allowing us to play. This is about grassroots development.
"I always remind the girls to be humble and remember the district that they represent'"
Navua had beaten Nasinu and Tailevu-Naitasiri in the ongoing league.