Naitasiri wins to retain cup lead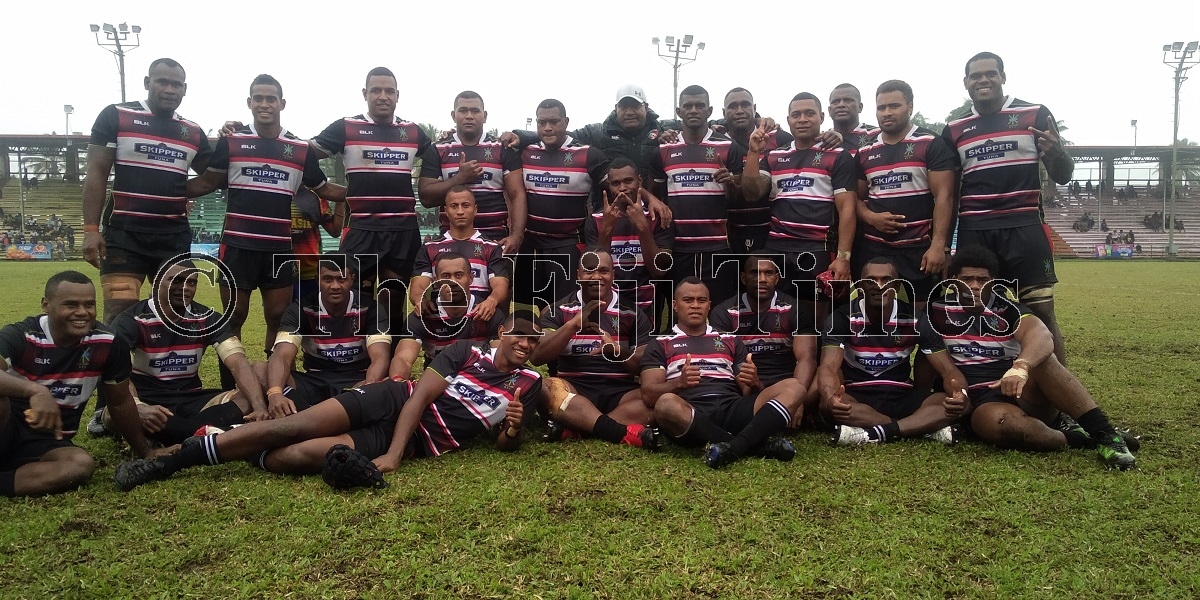 Naitasiri proved too strong after beating Jack's Nadi 23-8 in their Skipper Cup clash at Ratu Cakobau Park in Nausori yesterday.
Naitaisiri coach Ilaitia Tuisese Jr said they were unlucky not to have come away with a bonus point, but were happy for the win.
We got that "W" and a big squad and still have lots of hard work to do," Tuisese said.
"We go back now and prepare for our first game away against Namosi next week."
Continuous built up pressure saw Nadi go over for the first try with fullback Navitalai Tuilawa slicing through the Naitasiri defence from five metres out to score to the left of the uprights. Nadi fly half Kavekini Varo failed to convert with the strong winds swiping the ball away from the posts.
Naitasiri equalised before the break when a quick tap from halfback Jone Navuso on the Nadi 22 metre line saw the defence napping to send Fiji Warriors fly half Tuidraki Samusamuvodre over for a try which was unconverted sending both teams to the tunnel levelled at five all.
Naitaisiri took the lead early in the second half with a penalty from Samusamuvodre from 40 metres in front of the posts.
Naitasiri, backed up by large vocal home crowd, switched gears and drove with a powerful maul from 15 metres out, shattering the Nadi defence to get their second try from tight head prop Solomone Navuso, also unconverted.
Naitasiri scored again 51 minutes in, off a set piece move on the halfway which saw Kaloucava break once again and quick hands found openside flanker Tomasi Naiduki run in their third try with Samusamuvodre adding the two points.
Another successful penalty from Samusamuvodre on the 58 minute mark increased Naitasiri's lead to a comfortable 18 point cushion.
Nadi managed consolation points with Varo getting a penalty after Naitaisiri were penalised for dangerous play at fulltime.
Naitaisiri: 1. Joeli Veitayaki 2. Lemeki Tuyawa 3. Solomone Navuso 4. Temo Raibevu 5. Chris Minimbi 6. Esikia Macu 7. Tomasi Naiduki 8. Sireli Kaloucava (c) 9. Jone Navuso 10. Tuidraki Samusamuvodre 11. Tomasi Vula 12. Lepani Tuivanuavou 13. Epeli Ratabacaca 14. Neveci Nakailagi 15. Kini Douglas Reserves: 16. Seremaia Naureure 17. Josaia Qaduadua 18. Sailasa Romatanioro 19. Necani Nawaqadau 20. Viliame Matai 21. Saula Naicori 22. Vuate Karawalevu Nadi: 1. Josefa Radrodro 2. Ratu Vere Vugakoto 3. Isaia Namote 4. Jolame Luvevou (c) 5. Peni Tavua 6. Asivurusi Naliga 7. Vilive Miramira 8. Taniela Nawaqavonovono 9. Rosivela Dresu 10. Kavekini Varo 11. Vilikesa Driu 12. Joseva Naivalu 13. Eseroma Naba 14. Jiutasa Nave 15. Navitalai Tuilawa Reserves 16. John Jackson 17. Josua Bulivou 18. Ron Katonivere 19. Turuva Lumelume 20. Apisai Nagi 21. Rupeni Vakasilimi 22. Sireli Tuidraki 23. Tevita Mociu