Multisector approach to suicide awareness
12 September, 2018, 10:46 pm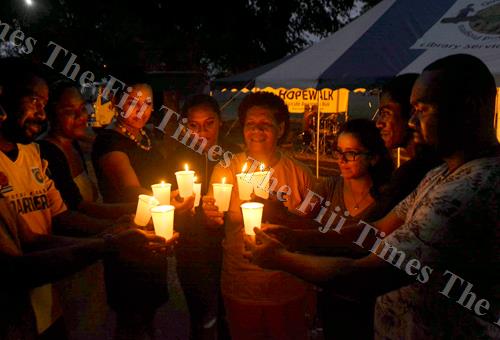 FIJI'S Health Ministry is taking a multisector approach towards its outreach programs this month in order to raise awareness on suicide prevention.
According to a media statement issued from Government, the Mental Health Unit of the Ministry of Health and Medical Services through the National Committee on the Prevention of Suicide (NCOPS) is working collaboratively with Non-Government Organisations, Faith Based and Civil Society Organisations, youth groups and communities to raise awareness on suicide prevention.
The awareness outreach programs are aimed to reach as many communities.
These events are organised aligned to the theme "Working Together to Prevent Suicide."
In commemoration of the World Suicide Prevention Day this week, Lifeline Fiji together with NCOPS had organised a vigil program on the Monday at Shirley Park in Lautoka.
A program was also organised  in Labasa to mark the National Mental Health Day today.
Similarly the Mental Health Walk for Hope program is organised for next month on the October 13 to be held at Sukuna Park and Albert Park in Suva.
The NCOPS members will organise similar awareness programs throughout the country to reach out to families, schools, corporate agencies, faith based and youth groups along with rural and urban villages and settlements.
The awareness, according to the media release, will provide opportunities for networking and information sharing on ways to cope with stressors, developing resilience, and ways to manage stressors to prevent severe distress.
It will also promote the values of empathy, compassion, genuine concern to reach out with messages on suicide prevention.
"As part of its ongoing efforts to raise awareness on mental health programs, the Ministry of Health and Medical Services has also empowered its nurses and health professionals through training in the Mental Health Global Action Program (MHGAP) it enables those with non-specialized background in mental health to recognize mental health issues and have the ability to treat the issues in their own communities," the release stated.
The Ministry of Health and Medical Services in partnership with the World Health Organisation (WHO) has trained 700 nurses nationwide in the last two years through MHGAP.
Through these trainings, the Health Ministry has been able to empower the nurses and mental health staff in the divisions and subdivisions to be able to reach out, identify individuals presenting with mental health issues and provide early intervention including suicide.
The Mental Health Global Action training has also created opportunities for information accessibility and counselling services provided at the nearest health centres and hospitals.
The Ministry has also strengthened support mechanisms with existence of other platforms through Fiji Police, Life Line Fiji's National Suicide Helpline toll free number 132454 and National Child Helpline 1325.
The mental health focal points in the divisions and sub-divisions are coordinating the mental health clinics for mental health clients and they work with public health nurses to identify new cases and conduct programs accordingly to manage the cases.
The National Committee on the Prevention of Suicide (NCOPS) is a multisectoral team lead by the Ministry of Health and Medical Services.
The committee comprises of 4 sub-committees which includes Media, Awareness, Education and Research.
It has representatives from various organisations, both government, Non-Government Organisations (NGOs) and the Faith Based Organisations (FBO).