Ministry to investigate creek slip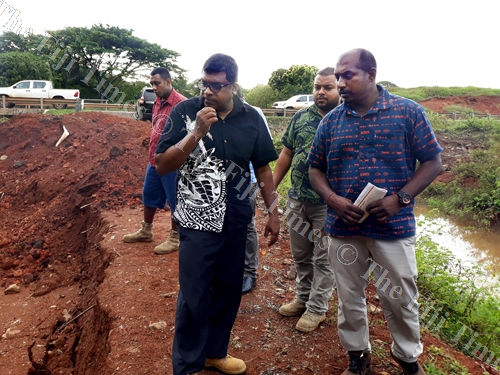 THE Ministry of Waterways will investigate possibilities that mining or roadworks may have caused portions of soil to slip into a creek in Dreketi, Macuata. In an interview with this newspaper, Minister for Waterways Dr Mahendra Reddy said he would speak to stakeholders regarding this matter.
Dr Reddy described such a situation as a continuous problem his team would face if nothing was done now.
"We can desilt the drain, clean the culverts but if the surface run-off is continuous then it will be a continuous problem," he said.
"So we will talk to stakeholders about this issue and there are a lot of issues regarding other ministries which we need to attend to. "The Ministry of Agriculture is a major stakeholder we need to consult following farming issues that affect our waterways."
At the affected creek, Dr Reddy also explained to his team that any works done in the waterway areas needed to be made known to his ministry.
Dr Reddy, who visited the North last week, assured farmers that their grievances regarding waterway issues would be dealt with effectively by his team.
He told farmers that their concerns and complaints would not sit with his team in the office but they would act upon receiving it.