Letters to the Editor – Thursday, June 23, 2022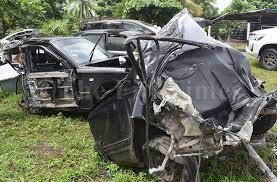 Address them
Accidents do happen every now and then.
I believe majority of these accidents are as a result of speeding and careless driving.
Having said that, it is hard imagining how it is possible to address bad driver behaviour and stop them from committing mayhem on our roads in the first place.
Their reappearance tells us they fear no one.
This then means no one is taking them to task.
It may also lead you to believe that whatever it is that you are presently doing is not working at all.
The implementation of any law for that matter requires no second thoughts and needs to be applied without looking at the face of the culprit.
Then only you will be able to address what you want to address.
I am sorry to say that driver recklessness and misconduct will not require you to venture far to find them.
They are found at every step you take.
This brings me to the point to mention the mini-van drivers' attitude and behaviour which are getting worse day by day.
Surprisingly, despite their unacceptable and intolerable behaviour, they have remained on our roads.
Again, I must say unless the law there is not applied in the manner it should be, nothing will change.
The problem is who will see this will happen and carry on without losing its momentum.
I know other writers will also contribute and give in their thoughts.
Thank you The Fiji Times for giving me the space.
Suresh Chand, Nadi
Power disruption
Reference is hereby made to Hasmukh Patel, EFL chief executive officer, The Fiji Times, Wednesday, June 22, 2022.
I thank you kind Sir, for your spontaneous response and prompt sincere apologies.
They are well received and duly noted, most respectfully.
I am most thankful, grateful and appreciative.
Vinaka du, na Momo Levu na iliuliu EFL na chief executive officer.
Ronnie Chang, Martintar, Nadi
Child labour
I am not surprised to read in the FT 22/6 about children collecting scrap metals, PET bottles etc to help put food on the table.
These are children who live in settlements close to the rubbish dump area who are doing this.
I have seen children selling pies, roti parcel etc at night time to help parents.
Some of these innocent children are begging at the same time.
Our society, NGO and the ministry concerned should look into this situation to find out why the children are doing this.
Narayan Reddy, Lautoka
Robbers and thugs
In every corner of every street, where light can't touch, where the smell of cigarettes and bottles of beer are common, and where gangs and thugs lurk around.
When the sun sets, when the light fades, darkness crawls the face of the towns and cities then boom, windows break open, screaming heard a mile away, police sirens heard everywhere, gang fights occurring in every street, dogs barking loudly and ambulances on the duty.
Car hijacking happening in car lots, kidnaping of children and the trading of drugs and marijuana are happening.
This madness goes on for hours until the sun sets itself up again.
When everything is calmed down and eased.
What a relief, phew!
But yet another night is coming up and make sure you are not the victim.
KELEPI DAKUIYACO, Serua, Waikalou
Hard reality
Your headline news brought tears in my eyes. (FT 22/06).
The statistics provided by the executive director of the Fiji Council of Social Services, Vani Catanasiga, that children are scavenging the rubbish dumps for scrap metal is very disheartening.
And others are finding other means of earning an income for their families such as selling food.
I used to watch such case scenarios in the movies and television series but now such harsh times have become a reality in Fiji.
There is no denying that the poverty levels have gone up here.
My heart goes out to these children and their families.
Hopefully, an amicable solution is found for this issue.
DINESH KUMAR, Ba
Balolo delicacy
I find it strange that a man who ate balolo died at the Savusavu Hospital in November, 2020.
Balolo is a yearly delicacy, a kind of edible sea worm scientifically known as Eunice Viridis which spends most of its time in the deep recesses of certain coral reefs and was eaten by my forefathers from generation to generation including myself.
It will be interesting to read a scientific finding or maybe they forgot to publicly release that finding?
Jioji M Cakacaka, Tadra, Votualevu, Nadi
Losses and damage
Can Energy Fiji Ltd compensate its customers who suffered losses and damage to their electrical goods because of the recent and increasingly frequent power cuts.
Surely EFL can afford such payments because it has recently given pay rises and performance bonuses.
Meli Matanatoto, Suva
Absolute majority
To me, those election candidates who are speculating that no party will have absolute majority in the upcoming election are throwing in the towel too early.
Seriously, what signals are they sending to their supporters and voters at large?
Will their policies and strategies not be enough to entice at least 50 per cent of the voters?
Pranil Ram, Votualevu, Nadi
Seeing our ruggers hit the yards at the sand dunes indicated expectations fans have from them when the Pacific Nations Cup competition kicks off at the ANZ Stadium next Saturday.
The Flying Fijians face the Toutai Kefu-coached Ikale Tahi outfit, boasting the likes of Augustine Pulu, Malakai Fekitoa, Israel Folau and Charles Piutau.
Fiji and Tonga have played some tough matches which have never failed to disappoint and I'm adamant the crunching clash on Saturday will keep fans at the edge of their seats.
Fans can expect hard hits and fast flowing rugby as both sides prepare for next year's RWC tournament in France.
Gruelling sessions at the sand dunes have produced results.
The Fiji 7s team, the Stallions and schools taking part in the Deans competition will vouch that training at the sand dunes gives that extra bit of mental toughness and brotherhood bonding.
Good on you Vern Cotter, thank you for making a visit to the sacred sand dunes which have played an important role in the success of our rugby teams!
Rajnesh Lingam, Nadawa, Nasinu
Reading passion
I recall my school days, rushing to the shop early in the morning and waiting patiently for the Kaila! newspaper to arrive.
Three days of savings just to get hold of the Kaila! newspaper.
The colourful pages, error-free jokes, celebrities, movies, wrestlers, current affairs and what not.
The whole weekend was taken out for reading and pasting wrestlers' pictures in the bedroom.
It's been years since I left high school but my reading passion remains like solid rock.
When Wednesdays come, I jump to the Kaila! section and smile.
I say to myself "This is where it all started".
RODNEY CLARENCE RAJ, Naleba, Labasa
Political character
Heard in the PBS NewsHour (20/6) that "Nixon and Trump were so alike: Nixon was about Nixon and Trump about Trump".
Wonder whether any of our leaders fit that character mould?
Rajend Naidu, Sydney, Australia
Brawling youths
Youths brawling in a video near Raiwai housing, get yourself a cane knife each and go swing it at the cane fields instead of acting like hooligans.
Vamadua nomuni bula.
Wise Muavono, Balawa, Lautoka
Vote for change
The status quo got us here.
So, if you want out of the status quo, you know what to do.
Vote for change!
Samu Railoa, Nadi
Greatest CEO
With a record $96 million profit, I think, Mr Hasmukh Patel you have every right to call yourself the greatest CEO in Fiji.
Please use the money to pay off all EFL outstanding loans and reduce the electricity charges.
The workers try to find out why you people are getting a pay rise instead of a bonus.
Thanks.
Sukha Singh, Labasa
Virus lessons
The permanent secretary for the Ministry of Health, Dr James Fong, could not say it any clearer (FT 21/06) when he stated the people of Fiji would be poorer if they fail to learn from the lessons of our experience during the pandemic and the tragedy of losing lives to the virus when certain sectors of our population continue to refuse to be vaccinated.
I feel that easy access to social media has been the principal contributing factor for this resistance.
Just saying.
Emosi Balei, Suva
Roadworks
Many roads are being fixed but many more are getting potholes again.
I wonder why?
Narayan Reddy, Lautoka
Back to coal
Some European nations like Germany, are looking at increasing, the "bad boy" fossil fuel, namely coal.
Their aim is to cut down the current use, of natural gas because, of its reduced provisions, from the Russians.
That's an about turn on the commitment, to the climate change Paris Agreement.
However, they seemingly have no other option, as survival is the issue right now for these nations.
The unprecedented move may indirectly, be beneficial, as it may eventually, speed up the "malua" transition, to the acceptable green energy, for these European nations.
Edward Blakelock, Pacific Harbour
Duo set to sing
Firstly, let me congratulate Domo Vou Talei competition song contestants, Sarah Blake and Kaylia Duikete, for being chosen in the top 10, and for taking the challenge to perform their original songs live at the Woodstock Uprising Music Festival in Pacific Harbour on July 9.
It was interesting to read (FT 22/06) that Blake, who is 26 and composed the piece To Love And Be Loved, wrote her first song when she was 12.
Duikete, on the other hand, composed a song titled Memories and she composed her first song, titled Paradise, when she was 10 years old.
Both artists were grateful that the Domo Vou Talei competition had given them an opportunity to get their music out there.
Indeed, the competition is a great platform for aspiring artists such as Blake and Duikete.
Vinaka vakalevu organisers for the initiative!
Rajnesh Ishwar Lingam, Nadawa, Nasinu