Letters to the Editor – Thursday, January 09, 2020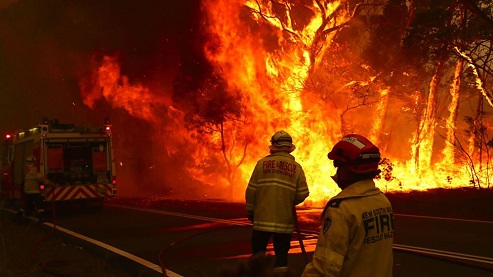 Let's walk the talk
I WRITE with due concern to the situation in Australia having a state of emergency because of the fires.
Fiji has just made a statement they are willing to assist in anyway possible and has offered prayers only at the moment.
I wonder what would have happened if Australia had made the same pledge during Severe Tropical Cyclone Winston.
While the nation of Fiji can pray, I believe we need to do something like sending our service personnel, military or police, and volunteers to help.
Now is the time.
While we are spending money globetrotting, now we should walk the talk.
Control pollution from fires which is the major contributor to climate change.
Yogesh Kumar, Raiwaqa, Suva
Nuclear catastrophe
EVER since global warming and climate change emerged as a major topic in the international relations of Fiji and other Pacific Island states, I believe we as a region have diverted our attention away from the subject of nuclear disarmament, international diplomacy and world peace.
Pacific Island leaders have short-sightedly gone ahead to declare climate change as the number one priority in the region forgetting that one press of that nuclear button will see a complete annihilation of the human species on this planet.
Climate change, while important, is a slow onset disaster, whereas a thermonuclear war where no one survives is a quick onset event that the Pacific Island community should be working hard at the international stage to avert.
The US drone assassination in Iraq of Iranian national hero, head of Iranian armed forces General Suleiman and Iran's retaliation by firing rockets into US positions in Iraq have pushed the world to the brink of World War III and a potential nuclear catastrophe.
There is no better time for our Prime Minister to invoke his "talanoa concept" to bring leaders of the world's most powerful and populous nations, namely the US, Russia, China and India, to a round table dialogue to map a pathway to peace and an end to the threat of a nuclear holocaust where there will be no winners — and no more planet Earth.
Andrew Rodgers, Nadi
Lami rubbish
JULIE Sutherland's letter (FT 08/01) "Lami beach pollution" tells it how it is — rubbish everywhere and asks the question if anyone notices it or cares.
I think the answer is simple — everyone notices and all are aware of its wrong but the majority don't care.
I believe what is more significant is that those who have the responsibility and authority to manage and attempt to control this are the most silent of all.
In Lami, we hear there will be no increase to rates this year but we don't hear how they are going to tackle the ever-increasing litter and pollution problem they have and can't deal with now.
How better this announcement would have been if someone in the council had used initiative and also announced that this year the council would make people comply with what is actually written and authorised under by-laws on the rear of their garbage charge invoice, that refuse put out for collection must be in covered bins.
But now back to why so much rubbish everywhere of which some eventually end up polluting the ocean and beach in Lami Julie mentions.
Here's one example, drive past Lami police compound and you will see a large pile of rubbish in a corner consisting of general household, plastics, polystyrene packaging, plastic bags, metals and garden refuse that is set light occasionally, and it's next to a drainage culvert that eventually discharges into the Lami bay.
Lami council provides an excellent refuse collection service, two general and one recyclable each week along with monthly garden refuse collection that ensures all rubbish is managed in an environmentally-friendly way — most use this service, some don't.
Grahame Stageman, Lami
Condition of hospital
ONE wonders if the Minister for Health, or any other minister for that matter, has inspected the Savusavu Hospital.
My understanding is that it is absolutely crucial that a hospital be clean and safe at all times and that cleaning standards be kept at the highest levels.
Also, why don't our hospital employees wear identification badges and proper uniforms?
All employees including nurses, physicians and temporary employees should be wearing identification uniforms and badges at all times.
Isn't it policy?
Savusavu Hospital is not only filthy but it is cluttered and in dire need of maintenance and proper management.
I've said it before and I'm going to say it again, get qualified, experienced administrators to head and manage our hospitals because I believe the current management system is in disarray and it's just not working.
How long is it going to take to realise that and to do that baffles my understanding.
Simon Hazelman, Rava Estate, Savusavu
Close it off
WHAT is the purpose of putting a ban on plastics and then allowing the manufacture of plastic bags more than 50 microns?
I believe a plastic bag is a plastic bag whether it is thin or thick because it will basically do the same damage.
Giving leeway to thick plastic bags will do no good and will further confuse customers and deplete the environment and our oceans.
I agree with Dr Reddy, "We need to close off the tap.
Once we close off the tap, the supply will become a non-issue.
No supply, no use."
Let's walk the talk!
Rajnesh Ishwar Lingam, Nadawa, Nasinu
Plastic ban
IF the Minister for Environment wants to close the production of plastic bags then why didn't he advice the Government about it in the first place.
At the moment all single-use plastic bags are banned and Mr Reddy is quoted by The Fiji Times that he wants to close the tap on plastic production.
According to the minister, the manufacturers plan to make thicker plastic bags, so basically they are not breaking the law but bending the law.
John Brown, Lautoka
CCTV footage
SO a CCTV "still" footage has revealed that a mosquito coil started the fire.
So be it.
I'm sure that the CCTV footage will also reveal the person who put the coil there.
Unless the coil got there by itself.
Allen Lockington, Kava Place, Lautoka
Think about it
I APPLAUD the move by the Government to ban plastic bags in order to reduce environmental pollution.
On the other hand, to allow plastic bags of 50 microns and above is a ridiculous decision by the smart Government.
To my understanding, the thicker the plastic, the longer it will take to break down!
What about the plastic-made products?
It's everywhere to be found in Fiji and ends up in the sea.
Something for the smart people to think about.
Vinod Kumar, Suva
The leaders
IF no serious steps are undertaken, what are the odds that well before the wrath of climate change ends life on Earth, world's "visionary leaders" will create a war which will destroy everything?
As the flora and fauna are becoming endangered and extinct, so are visionary leaders.
Worldwide, if not already extinct, selfless political leaders are on the endangered list.
Mohammed Imraz Janif, Natabua, Lautoka
Animal cruelty
PEOPLE who are cruel to animals should be charged under the Prevention of Cruelty to Animals Act which I believe currently lies dormant.
Furthermore, it is an established fact that children who are taught to be kind to animals usually grow up to be decent human beings.
Monsters have no part in a civilised society.
Doe Miller, Labasa
Bus services
DOMINION Transport Ltd has decided to stop services to the public by grounding all its buses without prior notice.
I believe it is an unacceptable situation.
The Land Transport Authority (LTA) must act with decisiveness and firm hands to stop this by bus companies.
Bus services are a vital link in our transport system and cannot be allowed to bulldoze issues by this kind of lightning strike.
I agree that the bus industry cannot remain in business without making reasonable profit.
Like all businesses it has the right to make profit in a competitive environment.
However, I believe to make a gross generalisation that all bus companies are on the verge of collapse is clearly untrue.
Not all bus companies operate under the same circumstances and same conditions.
Bus companies have had a history of struggle against odds as many of them have functioned as family ventures and survived in difficult circumstances.
This aspect must be appreciated for the public service they have rendered.
No one can deny that they have served the community well over the years.
Since the bus industry is so vital for the commuters, it cannot be ignored.
Their voices must be heard.
The authenticity of their complaints must be examined in a fair way and in a dispassionate manner without any bias.
The introduction of e-ticketing system should prove to be fair to all parties involved.
The Government should know the precise income of each bus company and this can be weighed against the expenditure incurred.
This can easily be cross-checked with the new computerised system.
In my view, the bus company should be given a fair chance and after due research, if their claims are justified, they should be given a bus fare increase.
LTA must ensure that frustration must not be allowed to be built up on this issue.
The Government needs to ensure this as well.
The school year starts next week and the buses must start to roll.
Dewan Chand, Namadi Heights, Suva
Messiah needed
FEW months back, not sure who was it, but someone regarded PM as messiah.
May I kindly request to send your messiah to Australia because Australia needs your messiah more than anyone in Fiji.
Moses Mani, Auckland, New Zealand