Letters to the Editor- May 9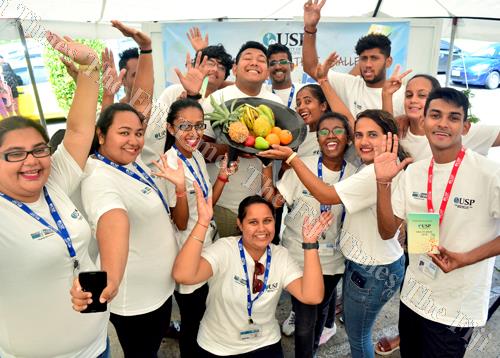 Advocate healthy living
NICE shot Jonacani! The image of students of the University of South Pacific during their Health Week was captured well in yesterday's The Fiji Times.
I salute the students and faculty staff members for taking the initiative to advocate healthy living and lifestyle.
The honourable Health Minister Rosy Akbar reminded the audience to begin with themselves and that was living a healthy lifestyle.
Madam Akbar reiterated the importance of having regular checks and the need to have healthy leaders.
She added lifestyle diseases were a matter of poor health choices, which is true.
It's important to choose our diet consciously and spend time exercising regularly.
Far too many people are increasing their medical bills on local and overseas treatment and I feel that as a nation we can do more to reduce NCDs.
Let's unite to advocate healthy living and food choices and regular exercise.
RAJNESH ISHWAR LINGAM
Nadawa, Nasinu
EFL shares
I WENT to Nakasi to inquire about EFL shares as there were EFL officers present there.
I was told that I could acquire shares as a house owner but I had to go to the head office in Suva with the title of my house.
I went to the head office with my title and upon inquiring, they told me I could not be a share holder.
Only those whose name the bill is issued to is entitled. I believe if your house is on rent, the tenant gets this benefit.
How fair is this for the building owners? Can EFL clarify this?
PARAS NAIDU
Lautoka 
VAT and bus fares
IN The Fiji Times issue of May 5, Rohit Latchan, the general secretary of the Fiji Bus Operators Association claimed that VAT was not charged on bus fares.
He accused the Fiji Labour Party of misleading the people in its social package manifesto which said Labour would reduce bus fares by removing the 9 per cent VAT levy.
The fact is that bus fares are adjusted according to movements in VAT.
When VAT was increased by 2.5 per cent(from 12.5 per cent to 15per cent) from January 2011, bus fares were also increased by exactly the same percentage.
Likewise, when VAT was reduced from 15 per cent to 9 per cent from January 2016, a similar reduction was made to bus fares.
So VAT is a real factor in the determination of busfares.
VAT or not, Labour believes bus fares are on the higher side and needs to be brought down, it makes a big dent in the pockets of low-income families.
MAHENDRA P CHAUDHRY
Fiji Labour Party leader
Disciplining children
THE case of the suspended RKS principal brings to the fore once more the need to allow head teachers to exercise corporal punishment in schools.
Children need discipline to keep them in line.
I believe our laws that followed secular teachings and ignoring God's wisdom are to me the cause of bad behaviour of our youngsters. The Bible clearly states in Proverbs 13, verse 24: "Who ever spares the rod hates their children, but the one who loves their children disciplines them."
Now parents can't smack their children and the head teachers are not allowed to administer corporal punishment.
I have read about children misbehaving and swearing in buses as well and fighting in public. I believe the lack of punishment causes youngsters to defy authorities.
As children we have been smacked when we did wrong. The pain was enough to deter further mischief.
But our parents loved us and cared for us.
The problem is when the parents discipline in anger and not love, that's what the expert psychologists are harping about and then wrongly believe all forms of corporal punishment are wrong.
From this we are breeding a whole host of ill-disciplined children for generations to come.
Parental neglect and hence lack of discipline and set boundaries are generally the cause. I believe the lack of love and support has a lot to do with suicides and teenage pregnancies as well.
Come on parents, show more love and concern for your children as they grow up and a whole new generation model citizens will make Fiji proud!
NORMAN YEE
Martintar, Nadi
Overseas tour
THE difference between soccer and rugby is quite clear.
When you read the papers, you see pictures and articles related to rugby more than soccer. The publicity of soccer is falling at grassroots level.
Sadly, the Milo Kaji and Deans competition have an edge and more excitement compared with the Fiji primary and secondary school's soccer competition.
Now just reading yesterday's The Fiji Times, my attention was drawn to three headings, "Ministerial salute for RKS", "Veiuto U13 ruggers return" and "Tough competition for RSMS U16".
I basked in excitement at the news. RKS has just returned from Fukuoka, Japan with the spoils from the Sanix World Youth Championship and became the first Fijian team to win the championship. Indeed our ruggers have set a benchmark for schools rugby.
The RSMS U16 team is on a tour of NZ and played against Hamilton Boys High School. The Veiuto U13 rugby team returned after completing their NZ tour. The side defeated Central Bay and Otahuhu but lost to Kelston Boys and Wesley College.
Such tours not only enable our players to develop their knowledge and skills, but also build and strengthen ties with our overseas counterpart.
I must thank the parents, former scholars and sponsors for making these overseas trips possible.
I am wondering when I would ever get to read that a secondary or primary school soccer team took an overseas tour to play a few friendly games.
No wonder we have huge crowd turnout at rugby venues but heads can be counted when there is a soccer match at primary or secondary level.
Perhaps a little bit of assistance from FFA and Vodafone could make this happen.
Finally, welcome home our champion RKS ruggers.
I rise and applaud your concerted efforts and thank you for making Fiji proud.
A big vinaka vakalevu to Nacanieli Saumi and principal Peni Senikarawa for the hard-earned win!
RAJNESH ISHWAR LINGAM
Nadawa, Nasinu
Car ride
YESTERDAY I was on my way back to Lautoka at around 5am when I spotted a man waiting at a bus stop in Lauwaki.
As I neared I could see that he had an anxious look on his face, so I slowed down.
The big smile on his face made my day.
He got on and says, "Boss, it's very cold in the morning and a bit hard to wake up. I missed my bus."
I asked him where he was going and he told me.
And I told him that I would drop him there.
The chap was chirpy and as we drove along, he spotted the bus he had missed.
I overtook the bus and he said to drop him in front so he could catch it.
I told him I was on my way to Lautoka and it was no problem.
He said thank you.
At his destination I stopped and he was a happy chap.
People who hitch usually pay for the ride but I never take money from hitchhikers.
Then I had to laugh when he said he had no money and offered me his eTransport card.
Then I asked, "And where do I swipe it?"
His answer made me laugh very loud and we high-fived.
And I have a feeling the guy has a very good sense of humour.
I bade him goodbye and he said that if I was around in his area, to go and have a basin of kava with him.
I bet you all know what his answer was!
ALLEN LOCKINGTON
Kava Place, Waiyavi, Lautoka
Traffic congestion
FRUSTRATIONS because of slow drivers, distracted drivers, rude drivers and drivers who are already to the point of rage can make travel difficult enough without poor lane structuring and traffic flow adding to your troubles. This is the situation faced by the morning drivers in Nadi. The drivers in Nadi must have noticed that the traffic congestion is because of:
* Humps near the Navo bridge,
* Absence of traffic lights at pedestrian crossings and intersection.
An interesting thing to note is that the Nadi Town (about to be declared a city) does not have any traffic lights in the main town.
Traffic lights are important in so many ways:
* These devices also play a role in road safety. While accidents still occur at intersections, these crashes can be prevented by the drivers yielding to the traffic lights. Many lives have probably been saved by traffic lights being installed.
* Traffic lights also help ensure that pedestrians and bicyclists get their fair share of the road. It may be potentially life-threatening to cross a busy street. Having crosswalks could help dramatically lower the risk.
While local law enforcement can only do so much to quell problems with individual drivers, modern traffic technology comes to the rescue regarding highway structuring and enabling steadier traffic flow.
I hope the next project for the relevant authorities before declaration of Nadi City would be to make Nadi fit to be called a city.
MOHAMMED KHAN
Malolo, Nadi