Letters to the Editor – June 13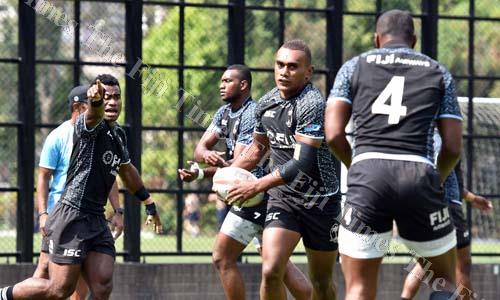 Well done
THE Rewa FC deserves commendation for winning the Fiji FACT back to back. The win indicates the hard work and dedication of all associated with soccer at district level in Nausori. It is hard to achieve such results without the input and co-operation of all your associates. At the moment, you have the right mixture of dedicated and determined group of individuals who take their role very seriously. Let it continue like this in the years to come. If you maintain this formula, I am sure more celebration comes your way. Please do not lose your focus and the good people you have at the moment. Because of their poor performance in league, many thought Rewa would not lift the crown this year. You proved them wrong. The final was played at a fast-pace and you managed well and kept the opponent at bay until the final whistle was blown. Please enjoy your spoils but do not forget this is just the beginning. Let us thank FFA for completing the year's first major soccer battle successfully. I also thank the sponsor Vodafone for their unwavering support for sports in the country.
Suresh Chand, Nadi
Royal visit
Rumours have now been confirmed that Fiji will receive a visit by Prince Harry and the new Duchess of Sussex in October on their first official overseas trip together. I'm sure there are many who are excited by this forthcoming visit. This is by far the most modern of young royal couples and they will no doubt hope to focus attention on the areas they choose to support: the environment, and empowerment of women in particular. In anticipation of their visit might we see a sudden reduction of plastic waste so frequently strewn about the place, and ending up inevitably in the ocean? I certainly hope so! Perhaps we might also see a surge of support for the empowerment of women too, even if only in an attempt to win the opportunity to meet the Duchess. We have three months to clean up our act, since we'll be on the world stage during their visit. Let's see just how much we can achieve! Cut out the plastic bags, dispose of rubbish responsibly, and go women of Fiji!
Vivien Counsell Mitchell, Serua
Being consistent
Success doesn't come from what you do right occasionally. It comes from what you do right consistently. Fiji has finished second to South Africa in the World Sevens Series. South Africa won the Paris 7s to clinch the title despite Fiji winning five gold medals to two. We were simply not consistent when the series started. Sometimes you win a tournament, sometimes you don't, as far as winning the World Rugby Sevens Series goes, you have to make sure you stay in the top mix and at least reach the semi-finals in all the tournaments. This is exactly how the Blitzbokke operates and that's how they got the title. Jerry Tuwai in his humility admitted making a mistake but we all know it was not intentional. Gareth Baber has developed a wonderful team and winning five tournaments is no mean feat. I am confident come the next series we will continue to strive for a better result. Every team is looking for something that will give them the edge over their opponents. We must not forget to get the most important ingredient for success in winning the series, it's consistency, As the saying goes, it's water under the bridge now and the 2017- 2018 series was a memorable one. "Victory has a thousand fathers, but defeat is an orphan". Let's continue supporting the boys and coach. Hold your heads high, stick your chest out, it was an awesome performance and you can still get the World Cup 7s. Jerry, Baber and the team, it gets dark sometimes but morning certainly comes.
DHARMENDRA KUMAR Rewa St, Suva
World 7s dream team
THE WRSS Dream Team takes into consideration players' performances across the season and previous nominations in the individual tournament dream teams. It's with great pleasure that I write that four Fijians, one Blitzbokke, one Kenyan and one Australian cracked the nod for the WRSS 2017-18 Dream Team. The Fijians in the dream team include the "off-load wizard" Nasoko, sizzling captain Tuwai, series second top point-scorer Nasilasila and the season's rookie "The Sledgehammer" Sau. Completing the team were Kenya's Oscar Ouma and Australia's Ben O'Donnell. Sadly, no Fijian made the Paris 7s Dream Team which includes the likes of England's Harry Glover, Tom Mitchell and Phil Burgess, NZ's Scott Curry, South Africa's Dewald Human, Spain's Pol Pla and Canada's Justin Douglas. But who cares as long as we got four "branded" Fijians in the overall WRSS Dream Team of the season!
Rajnesh Ishwar Lingam, Nadawa, Nasinu
Scary thought
To see a man escorted from his home with guns is just unimaginable and scary. Every time I come across the story on The Fiji Times online, for some reason I wonder what runs through the minds of children who were present when the event took place.
Iliesa Moceituba, Suva
7s World Cup They may have won the series but we will win the Rugby World Cup Sevens. That is a fact!
Wise Muavono, Balawa, Lautoka
Drug tests
I often read that drug tests are randomly conducted on soccer players. Those found positive are suspended from playing the game for a certain period. I wonder why only soccer players are singled out for such tests. What about other sports such as rugby, boxing, swimming, athletics, etc. What about female soccer players? What if a suspended player quits soccer and takes up another sport, say boxing? Is that allowed under the suspension? I believe the same rule should apply to all sports. Otherwise it's tantamount to discrimination against one particular sport.
Selwa Nandan, Lautoka
Support for Fiji
I wish to show my support to the boys after their loss to England. While reading Jerry's statement, it really touched me because he took everything as a man and challenge. We have our plans but God has His plans which will always prevail. My sincere thanks to the boys for the great performance they showed. I am always for you boys no matter you lose or win and you've made us proud. Jerry it wasn't your fault.
Vane Mainaisogoliku, Labasa
State assistance
How many people collected the 1k free from the Government in a deceitful way. I hope the long arm of the law can catch some of them soon because I saw a big crowd at Lautoka taking the free government housing assistance. I recognised some in the crowd were my neighbours whose house was not damaged.
John Brown, Drasa Vitogo, Lautoka
It wasn't to be
We gave everything to win the 2017-2018 series but it wasn't enough. A single mistake sometimes changes the whole complexion of the game. England played it really smart and spoiled our party. We waited in great anticipation that other results fall in favour but that wasn't to be. What really was peculiar about this series was that the winner was decided in the last tournament and as well in the last match. This is the beauty of the sevens rugby these days. Very unpredictable! South Africa really stepped up their game in the semi-final and it seemed like they wanted it more. Hats off to our boys for coming out second best! It requires huge sacrifices to be away from families and giving it all for your country. To some of our rugby enthusiasts please let's stop whining. The sevens series is done and dusted. The Rugby World Cup Sevens is just around the corner. Let's reinvigorate our players so that they once again rise up to the new challenge.
Pranil Ram, Votualevu, Nadi
Coach of the year
World Rugby you gotta be joking! It shocked me to read that Blitzbokke coach Neil Powell was chosen for Coach of the Year. This certainly has to be a joke, blokes! Here we got a world-class coach in Gareth Baber who has transformed Fiji into world-class beaters and has worked tremendously to develop, nurture and mould talents like Sau, Josua, Paula, Nasoko, Naduva and Mesu. Baber has achieved four tournament wins in a row at So Kon Po something which Neil Powell has yet to achieve. Baber went into the history books after leading Fiji to four in a row tournament wins which was our first. Furthermore, Baber won five tournaments this season compared with a single win last season while Powell won two tournaments this season compared with five wins last season. So World Rugby, who is the best coach? Compared with last season Baber's side showed exceptional skills, brilliant off-loads and played with a lot of vigour, enthusiasm and confidence. Our boys were ruthless and entertaining! Fiji lit stadiums on the circuit with breathtaking and mesmerising tries and won the first Hamilton 7s. Fiji won first time in Vancouver. Fiji won in Singapore. Fiji made it four wins in a row in HK. Fiji won in style in the London 7s. Fiji has beaten the Neil Powell-coached side seven times this season reh! I repeat, seven times this season! Isn't this enough? If it's not, then Fiji has four players from Baber's team (Sau, Jerry, Nasilasila and Nasoko) in the 2017-18 7s Dream Team compared with one Blitzbokke (Dylan Sage). I am lost for words on this decision by the panel, who I feel showed blatant ignorance and disrespect for the achievements of our flying Fijians and the hottest and number one coach on the circuit. For fans in Fiji and around the globe, Baber is the best coach and trust me he will prove it when he gets home the Melrose Cup. Then World Rugby will rise and give him and our heroes a standing ovation and realise the mistake they made and justice will be done then! Until then it's time for a break!
Rajnesh Ishwar Lingam, Nadawa, Nasinu
No need to apologise
To Jerry Tuwai and the boys, you do not need to apologise to the fans for your shortfall in the Paris tournament and losing the series to South Africa. Five cup titles is enough to make us proud of your achievement. Win the Melrose Cup for Fiji and you will be our heroes forever. We need a thanksgiving church service to celebrate the boys' achievement.
Maikeli Kausoqo, Caubati Housing, Nasinu