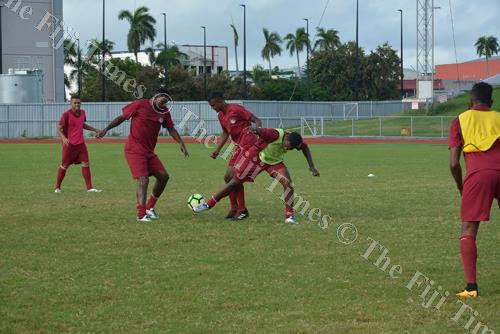 STILL reeling from the devastation caused by flood that accompanied Tropical Cyclone Josie over the weekend, members of the Lautoka Blues football team want to play their hearts out for their affected loved ones and fans.
The side braved the wet weather to attend their last training run under the watchful eyes of national coach Christophe Gamel yesterday as they prepare to leaves for Tahiti this afternoon.
Team manager Paul Abraham said the adverse weather affected their preparation but the boys were inspired to play their best for those affected by the floods.
He said the boys dispersed camp on Sunday to join their families and marched back into camp yesterday for the Tahiti tour.
"The boys are ready for the big game against the Dragons and they will play their best for their fans," said Abraham.
"I believe the devastation caused by the flood will motivate these players to give their best. This is a do-or-die game and once you lose that is the end of your Oceania Football Confederation League campaign.
"The boys have been training hard and we will go out there to win."
Big names expected to add depth to the side include defenders Kolinio Sivoki, Kavaia Rawaqa, Ilaitia Tuilau, Jone Vesukila, midfielders Dave Radregai, Zibraz Sahib and striker Samuela Drudru.
Also boosting the team's campaign are the three imports in Benjamin Totori, Cory Chettleburgh and Brian Kaltack. The trio scored a goal each in Lautoka's opening O'League pool game win over Madang FC of Papua New Guinea.
The side departs the country at 2pm.