Lautoka Blues keeps lead
19 August, 2018, 12:27 pm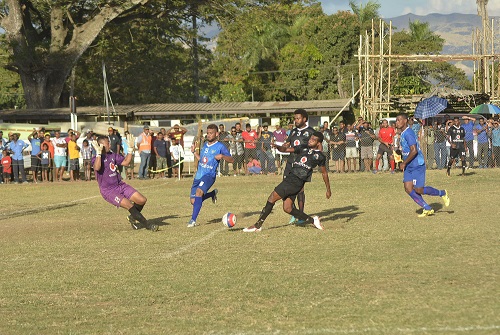 LAUTOKA Blues survived a tough challenge and scored an equaliser in the last minute to hold Ba to a 1-all scoreline in the Vodafone Premier League game held at Govind Park yesterday.
Defender Kolinio Sivoki made no mistake with a penalty kick after Dave Radregai was brought down without the ball inside the penalty box to equalise after Saula Waqa scored the first goal for Ba early in the second spell.
The Sugar City Boys managed to gain one point from the game and puts them on a good position to successfully defend its title.
The side leads the points table with 25 points and only need a draw in its remaining two games to defend the title and also secure a spot in the OFC Champions League.
Lautoka cannot afford to lose against Rewa and Suva in its last two matches because it will cost the side the title and an O'League spot.
Ba on the other hand has moved up on the points standing and relegated Suva on the second spot and is on course to qualify for the OFC Championship with four games to play.
Suva has two games to play and also need to win both games to relegate either Lautoka or Ba from the top spot.
Lautoka plays 90-minute football and this was evident in the game against Ba yesterday.
After Ba led 1-0 the side didn't lose hope but continued to work hard until scoring through a penalty in the last stages of the game.
Blues coach Kamal Swamy said the boys played until the last whistle and this had been their strength in past games.
"We didn't lose hope but have faith in each other and work hard until the last whistle," he said.
"At the same time we also missed out on many scoring chances – something we will continue to improve on in the future.
"We need this one point to maintain our lead in the points table and we will do our best to finish on a high note in the last two games."
Ba manager Arvind Singh said the side lost focus in the last minute allowing Lautoka to score.
"Luck was on Lautoka side to score in the last minute and it has happened to them in past games," he said.
"Lautoka is a better team with good players but I also commend our boys for their effort.
"We will have to do better in our future games to qualify for the OFC Championship."
Teams:
Lautoka: Beniamino Mateinaqara, Kolionio Sivoki, Jone Vesikula, Poasa Bainivalu, Shivan Naidu, Dave Radregai, Kavaia Rawaqa, Benjamin Totori, Navneel Nand, Osea Vakatalesau Subs: Viliame Tabucala, Epeli Rokotura, Laitia Tuilau, Lesari Qalica, Meril Nand
Ba: Josaia Ratu, Manasa Nawakula, Avinesh Suwamy, Suliano Tawanikoro, Kishan Sami, Abbu Zahid, Malakai Tiwa, Narend Rao, Meli Codro, Samuela Nabenia, Saula Waqa Subs: Misiwani Nairube, Atunaisa Naucukidi, Amena Bolaitamana, Kalaveti Tawase, Mavileko Nakama, Luke Savu, Shivneel Singh