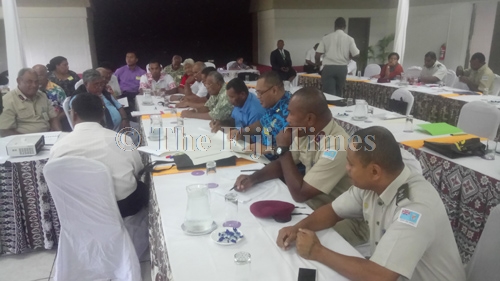 THE Lau Provincial Council will be looking at purchasing or leasing land on Viti Levu as a means to try and decrease the unemployment rate and further rehabilitation of their sons and daughters of the province who have served their terms in incarceration. At the Suva Lami Bay conventional centre the council held its meeting last Tuesday where vice-chairman and prominent chief in the province, Turaga na Roko Sau Roko Josefa Cinavilakeba, said this was their way forward as they hoped to provide a brighter future for the future generation of the province.
According to statistics provided by the Fiji Corrections Service during the Lau Yellow Ribbon Symposium, the province has the second highest number of inmates in the country compared with any other province.
Lau is second to the province of Tailevu with 118 confirmed inmates in correctional facilities around the country.
"The Fiji Corrections Service rehabilitation program is in conjunction with the province initiative by bringing to the fold the idea of the three-legged stool. The three-legged stool is made up of the vanua, the church and Government. "On the stool sits the person. When we work together, when the church, Government and the vanua work together and everyone is aware of what is happening, we strongly believe we can effect change in a person's life," said Roko Josefa.
Roko Josefa said the province believed the vanua played a vital role.
"Every year the council pays a visit to their sons and daughters who are serving time. "First we look at the crimes they have committed and what or who influenced them. It could be the environment they live in, or the people they associate themselves with, or could be the result of their own poor choices.
"We are reminded and in the process we remind them that they are born in a family with special roles and responsibilities. They have a duty to uphold in the vanua whether born a chief or born a warrior, they will need to be grounded again of their values and the duty that is required of them. "The hope is when one is released; he is accepted by the family, the mataqali (clan) and the vanua. Some recommit because of the feeling of isolation, no one is there to accept them, so they think the only way is to return inside (prison)."
The vice-chairman said they had also discovered that majority of those incarcerated were born and raised in the urban centres.
"Because we are so far away from the village, it is important for the elders in the household to share the indigenous knowledge and way of life with the younger generation. When they get released some of them are taken to the village and because they are not used to life in the village they return to the urban centres, commit another crime and go back inside.
"Taking this in consideration we are planning to purchase land or lease land for farming and other income generating projects. Through this we hope to reduce the number of unemployment rate and also those incarcerated. "So they can be farming and at the same time during the spare time we can be teaching them values, culture, custom and tradition."