Kacau to boost surveillance
10 October, 2018, 10:35 am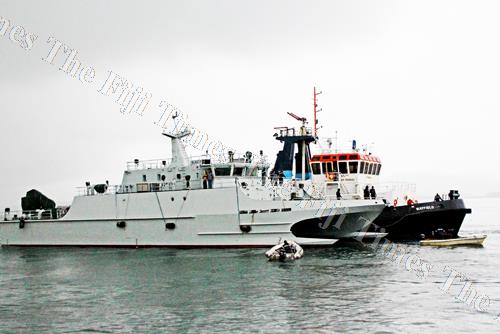 THE much awaited RFNS Kacau finally arrived into the country on Sunday from the People's Republic of China.
The surveillance and hydrographic vessel is expected to join the Fijian Navy fleet in carrying out maritime surveillance as well as conduct hydrographic survey.
"Hydrographic survey has a very important role that we need to conduct to assist in the economy for example with the recent cruise liners coming into Fiji — we need to ensure that our waters are safe for large vessels," said Fiji Navy fleet operations officer Commander, Timoci Natuva.
He added the vessel was equipped with a Multibeam sonar that allows a large area to be surveyed at once making surveying much faster and more accurate. Fiji has an exclusive economic zone spanning 1.2 million square kilometres.
It is expected China will provide training and familiarisation of skills with their Fijian counterparts.
"It (the gift from China) shows how Fiji is important in the region," said Mr Natuva.
"The crew will conduct initial training in Togalevu within the next few weeks before we do the commissioning, our Chinese counterpart will conduct the training. "The vessel will be managed by the Fiji Hydrographic Service under the Republic of the Fiji Navy."
Relations between China and Fiji have existed for more than four decades.
Fiji was the first Pacific Island state to grant diplomatic recognition to the People's Republic of China in 1975; the two countries established formal diplomatic ties that year.