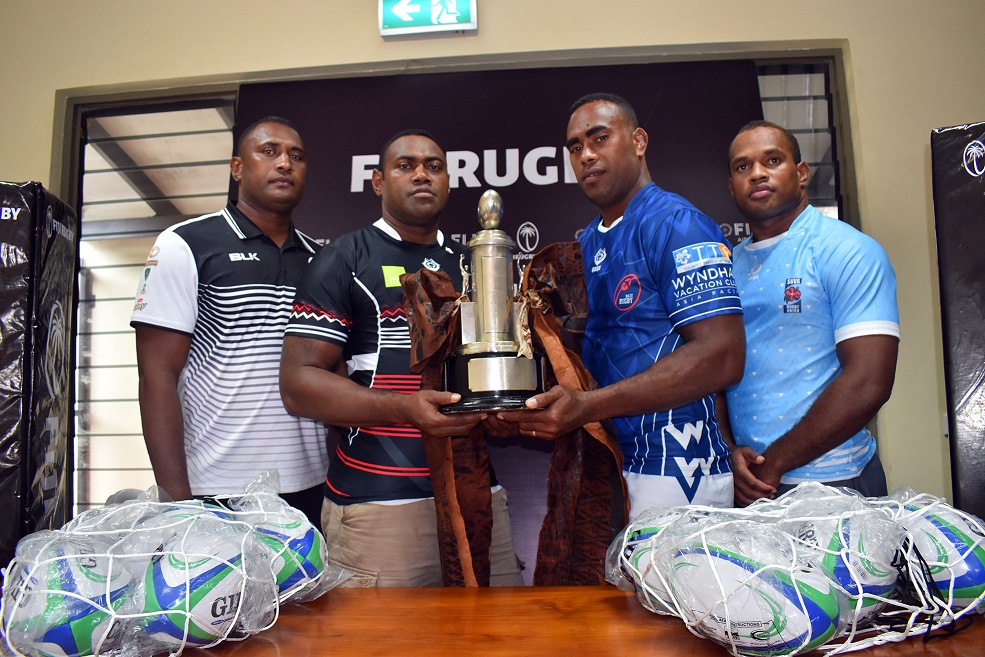 THE 2019 Fiji Rugby Union-sanctioned Farebrother Trophy Challenge series is scheduled to start this afternoon at Ratu Cakobau Park in Nausori.
Defending champion Naitasiri hosts the first challenger Nadi starting at 3pm.
Naitasiri team head coach Dr Ilaitia Tuisese believes his players will retain the trophy after the 80 minutes encounter.
"Remember that you are not only defending the title but you are doing it for the vanua and the people of Naitasiri," Tuisese told his players during their training session on Thuirsday i Suva.
He said the new look and young Nadi outfit would not be a team to take lightly.
Its strength and conditioning coach Sikeli Lotawa believes his boys will give the champion a good run.
"We have a young side that has been developing from the past two years ," Lotawa said.
"They will continue to learn and develop along the way, but when it comes to the Farebrother Trophy, Nadi has a different approach.
"We've been without the Farebrother Trophy for some years now and we are desperate for a win.
"We seek the support of the vanua to come and support their team tomorrow (today) as we embark on a journey that could be written in the history books for Nadi and Fiji rugby.
"We set a target in the beginning of the season to reach the Skipper Cup semi-finals. We did that and now we aim for the Farebrother Trophy.
Nadi plays Naitasiri today at 3pm at Ratu Cakobau Park in Nausori.
Nadi team; Ron Katonivere, Aseri Buli, Joseva Nadolo, Inoke Tavutu, Peni Naruma, Jolame Luvevou (c), Napolioni Dawai, Veniona Vuki, Marika Tivitivi,Kavekini Varo, Tevita Mociu, Vilive Aria, Amenio Naseyara, Jiutasa Mociu, Samisoni Viriviri; Resevers: Viliame Tui, Simione Tui, Kenneth Delai, Samu Saqiwa, Ilisoni Galala, Navitalai Tuilawa, Epeli Saukuru, Tuidraki Samusamuvodre. Naitasiri team: Jo Veitayaki, Jerry Naureure, Mosese Ducivaki,Necani Nawaqadau, Esikia Macu, Vetaia Tiko, Tomasi Naiduki, Inoke Tuisese, Frank Lomani, Kini Douglas, Sesoni Vinakailoma,Tomasi Vula, Sakeo Raloa, Semi Koroi, Onisimo Dakainikoro; Reserves; Jone Naqiri, Solo Navuso,Tubale Moceituba, Joseva Tawake, Sireli Kaloucava, Romulo Delai, Emosi Vunivosa, Paula Tiko.