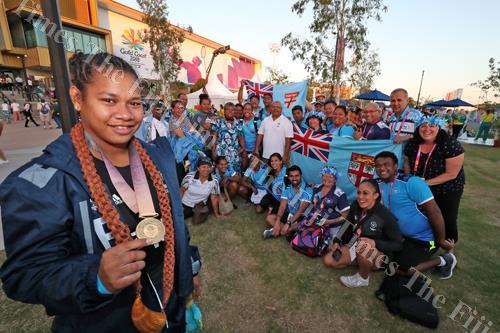 "LORD, it is now or never," weight-lifter Eileen Cikamatana muttered as she bend down to attempt a 130-kilogram lift in the women's 90kg division during the Commonwealth Games in Australia yesterday.
The Carrara Stadium Indoor Sports Complex weight-lifting venue was in pin-drop silence as the 18-year-old from Taviya, Ovalau, in her first Commonwealth Games, lifted 130kg to win Fiji's first gold medal in the 2018 Gold Coast games last evening.
She won the gold medal in her first 130kg lift and failed the following two attempts at 140kg and 144kg.
"I knew it was my moment of victory because when I lifted the weights, I was confident and I was at peace. I thank the Lord for the win, my parents, 'na qase' Paul Coffa, coach Joe Vueti, and all Weightlifting Fiji officials, Government and the people of Fiji.
"I came here with just one aim and that is to win this gold. I had done that and it is for the people of Fiji who are facing a cyclone now. May the Lord, who has made me win, spare our country so that we can come together and celebrate our achievement."
Meanwhile, Cikamatana was accorded a traditional vakamamaca ceremony to thank her for her achievement.
Team Fiji members took centre stage for a moment at Carrara Stadium to celebrate the feat. There were cheers, hugs and singing of Fijian songs to mark the win.
Vueti said four years of hard work had been paid by Cikamatana's victory.
"She made everyone proud and has placed Fiji in a high spot in weight-lifting. I am happy because weight-lifting had struggled for a long time and this win has brought all Fijians together," the former national rep said.
The gold medallist made special mention of weight-lifting mentor Coffa for his assistance in the past two years.
"I call him 'na qase' because he is like a father to me and other lifters. Without him most of us would not be here today."
Her parents Sefanaia and Makitalena Cikamatana were at hand to congratulate the champion.
"The struggles we made since she started playing has paid off, especially the long separation," her mum said.
"Our daughter has made everyone proud and we are planning a big celebration starting with her return next week and also at the village in Taviya.
"We thank the Lord and everyone who supported our daughter," she said.
Cikamatana was dressed in masi and a tabua hung over her neck by her mother to thank her for her achievement.
"We brought it to do a vakamamaca ceremony after she competed in her first Commonwealth Games.
"I did not expect that she will surprise me with this medal because the competition was tough. All I told her on Sunday was to be herself and play in her natural way."
Cikamatana scored 103kg in her first snatch lift, no lift on 107 in the second attempt for a total of 103kg.
She won gold in the first lift in the 90kg clean and jerk attempt of 130kg.
The silver medal went to New Zealand's Katty Fassina who lifted 232kg, and Clermentime Meukeugni Noumbissi of Cameron settled for bronze with a lift of 226kg.
Meanwhile, Samoa's Feagaiga Stowers won gold medal in the 90kg-plus division, silver to Nauru's Charisma Amoe and bronze medal to Emily Campbell of England.
New Zealand trans-gender Laurel Hubbard withdrew from the 90kg-plus division because of injury.