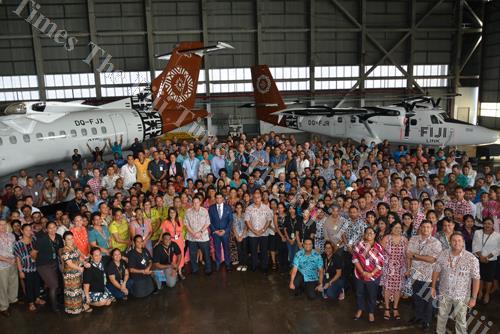 INCREASING fuel prices will be one of the biggest challenges for national carrier Fiji Airways this year, says company CEO and managing director Andre Viljoen.
Speaking at the company's financial results announcement in Nadi yesterday, Mr Viljoen said the outlook for 2018 was challenging given the pressure of fuel price increases, increased competition, and volatility of the US dollar.
"Fuel prices will continue to be a challenge for all airlines and we will not get complacent with the fiscal discipline required to meet our financial targets.
"This year, 2018, fuel is going to cost Fiji Airways $43million more a year, just because of price increases so it is a challenge," he said.
Despite this, Mr Viljoen said there were exciting plans for the airline's fleet this year.
"It will, however, be an exciting year for Fiji Airways as we become the first airline in the region to receive and operate the brand new Boeing 737 MAX 8 aircraft on our short-haul markets of Australia, New Zealand and the South Pacific.
"We will continue to pursue a Skytrax 4-star airline rating and keep adding more customer experience enhancements across our entire operation."
Mr Viljoen said guests could expect further travel convenience to new destinations as part of the airline's expanded network in 2018.
Japan is Fiji Airways' newest direct service, with three weekly flights scheduled to start on July 3.