FRU confirms Vodafone Vanua XV squad for New Zealand
26 September, 2018, 5:05 pm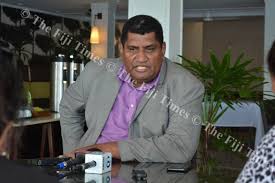 THE Fiji Rugby Union confirmed the extended squad for the Vodafone Vanua XV to tour New Zealand in November.
FRU chief executive officer John O'Connor commended the positive discussions that had been ongoing with New Zealand Rugby for some time now.
"We are grateful and thankful to the NZR for accommodating this tour and for organising the matches against the Heartland XV in New Zealand."
The trials will be held on October 3 at the University of the South Pacific grounds at Laucala.
All players named in the extended squad are required to attend trials with registration to begin promptly at 8am.
Vodafone Vanua XV extended squad teams:
Team 1
Mataiasi Kaulawe (Lautoka), Viliame Nabiau (Lautoka), Lemeki Racule (Lautoka), Emori Logavatu (Northland), Petero Tuwai (Ba), Paula Rokotuiloma (lLautoka), Joeli Cama (Vatukoula), Apenisa Waqawai(Yasawa), Peniasi Kaloucava (Northland), Isireli Satala (Lautoka), Inia Rokomatu (Yasawa), Peniasi Vuniyayawa (Lautoka), Eliki Naikausa (Yasawa), Viliame Taukeiduadua (Vatukoula), Koroi Yavala
Substitutes
Mesake Kainacovu (Northland), Ilisoni Lagi (Macuata), Eparama Luvata, Semi Naisevuniwai (Northland), Ulaisi Vosaicake (Ovalau), Joni Koroilagilagi (Macuata), Kini Tora (Yasawa), Seci Banuve (Ra), Napolioni Ratu (Yasawa)
Team 2
Alivereti Cawanibuka (Nasinu), Mosese Koroi (Ba), Etuate Nagata (Nanukuloa), Isimeli Naivaludua (Northland), Sikeli Ravono (Nanukuloa), Eroni Naua (Yasawa), Meli Rokotunidau (Vatukoula), Paula Saratibau (Cakaudrove), Joeli Nagalu (Ovalau), Nacanieli Batina (Yasawa), Apenisa Ratukabu (Yasawa), Junior Daugunu (Macuata), Opeti Ratucati (Lautoka), Savenaca Gaunaca (Tavua), Waisale Rasalata (Macuata)
Substitutes
Joji Naisevu, Silio Vuki (Nasinu), Emosi Rakari (Macuata), Lekima Vuki (Nasinu), Selestino Naieqe (Serua), Lepani Tuivanuavou (Cakaudrove), Peni Baselala (Ra), Manoa Valeniyasa (Ra), Marika Ratoto (Ba)
Team 3
Saula Qalomai (Tailevu), Leone Vosailagi (Ra), Navitalai Vueti (Macuata), Paula Waqaniburotu (Macuata), Jope Kavoakitu (Tavua), Danieli Lewakeli (Ba), Joseva Ravula (Lautoka), Taniela Liwa Northland, Samuela Navo (Nanukuloa), Etonia Rokotuiwasa (Tailevu), Paula Vueti (Nanukuloa), Paula Gonerogo (Ovalau), Joeli Dulaki (Northland), Malakai Cagi (Tailevu), Jese Tubunaruarua (Northland)
Substitutes
Solomoni Ratubuli, Marika Tabutaci, Are Monoka, Lagivala Lokoviko, Tevita Ratubuli (Tavua), Teba Iowane (Cakaudrove), Apimeleki Vonokula (Nanukuloa), Semisi Vauvau (Tavua), Jemesa Kaveni, Atunaisa Liva