From the Editor-in-Chief's desk: Your September 20 briefing
19 September, 2021, 11:47 pm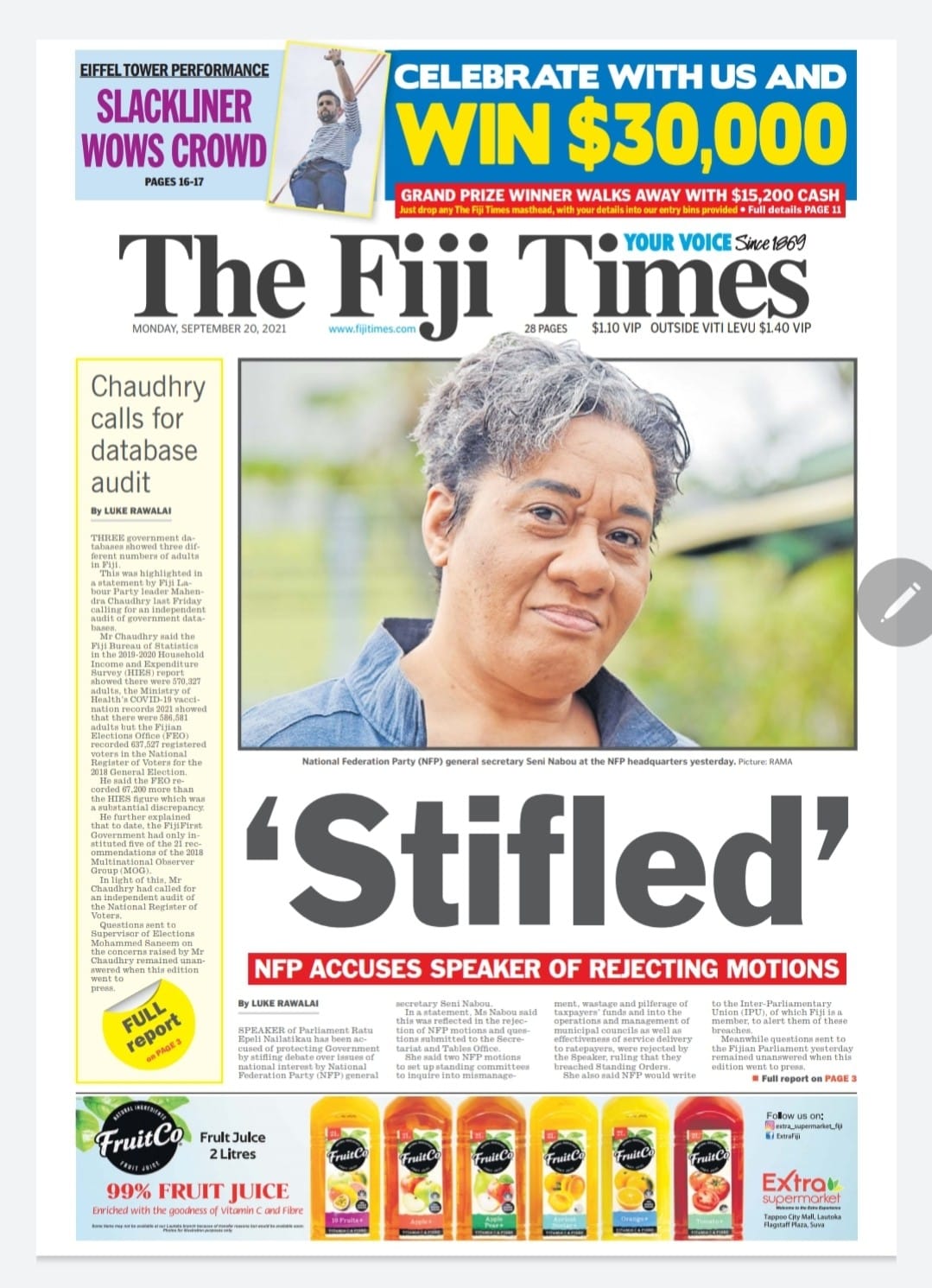 Bula vinaka everyone
It's the end of the weekend and we wish you well as we look ahead to the start of another work-week tomorrow. Stay well and stay safe.
CASH PRIZES
Remember we are celebrating our 152nd anniversary and you can get into the draw to win cash prizes with The Fiji Times. It's easy.  All you have to do is to cut off a masthead of The Fiji Times, write your name and address and phone contact and place this in a bin provided at an outlet or agency selling the newspaper near you. However you will have to be in to win!
HEADLINES
Here are some reports that made the headlines in The Fiji Times' edition for Monday, September 20.
PAGE 1
SPEAKER of Parliament Ratu Epeli Nailatikau has been accused of protecting Government by stifling debate over issues of interest by National Federation Party (NFP) general secretary Seni Nabou.
THREE government databases showed three different numbers of adults in Fiji. This was highlighted in a statement by Fiji Labour Party leader Mahendra Chaudhry last Friday calling for an independent audit of government databases.
PG 2
THE recent sacking of a government statistician begs the question how much more can Fijians endure, says Unity Fiji Party leader Savenaca Narube.
PG 4
VATUKOULA Gold Mines Ltd (VGML) will continue with mineral exploration works at Mount Kasi after Government stood by its initial decision in awarding the tender to the company. Lands and Mineral Resources Minister Jone Usamate made the decision following another review of the applications, a result of objections raised by other bidders over the initial decision. Government had earlier awarded the tender to VGML.
FIJI Pine Ltd (FPL) has zero tolerance on laxity in safety protocols, says CEO Vimlesh Kumar after two workers were injured while felling trees in Bua and Macuata.
PG 5
The Fiji Sugar Corporation (FSC) is expected to crush around 1.4 milllion tonnes of cane by the end of the 2021 crushing season. FSC CEO Bhan Pratap Singh explained this was because the three sugar mills had been operating well over the past few months.
COMPULSORY vaccination is not a new idea to governments, says prominent employment lawyer Jon Apted.
MOST people in Fiji opted to receive the COVID-19 vaccine only because their lives or livelihoods were dependent on it – this is not the way we would want our rights to be dealt with by a Government we voted into power. This, according to Suva lawyer Filimoni Vosarogo.
THE National Federation Party (NFP) has questioned Attorney-General Aiyaz Sayed-Khaiyum's expertise on statistics following support from experts for the 2019-2020 Household Income and Expenditure Survey (HIES).
PG 7
POLICE are awaiting the post-mortem examination results of a 54-year-old Varavu, Ba, man who was believed to be the victim of a serious assault.
THE Social Democratic Liberal Party (SODELPA) has confirmed receiving a complaint against its leader, Viliame Gavoka and general secretary, Lenaitasi Duru for alleged falsification of documents.
POLICE issued 196 cases of Public Health Infringement Notices (PHIN) during the 48-hour period that ended yesterday.
COVID-19, a crisis of this proportion, is expected to have far-reaching and multidimensional impacts on communities, says Fiji Council of Social Services (FCOSS) executive director Vani Catanasiga.
LETTERS TO THE EDITOR
There are interesting letters on Pages 8 and 9.
PEOPLE
In this popular section, read about: No one expected COVID-19 to turn the tide on hotel workers, but it did as the economy crippled and businesses shutdown Fiji-wide during the first wave. Out of the thousands Viniana Taginavulau too lost her job in the tourism industry last year.
POINT OF ORIGIN
In this section which comes out every Monday, read about: LIKE many other villagers on Taveuni and surrounding islands who lost their land following the war with Ma'afu and his warriors, those of Kocoma on Qamea also faced the same axe.
SPORTS
The big one on the back page is about: THE HSBC World Rugby Sevens Series returned to action yesterday on the opening day of the Canada Sevens in Vancouver, Canada.
MORE TO READ INSIDE
There's more to read inside but you will have to get a copy to know what we are talking about. Happy reading!