From the Editor-in Chief's desk: Your January 19 briefing
19 January, 2022, 1:48 am
Bula
Here are some headlines that made The Fiji Times' edition for Wednesday, January 19.
KAILA!
Before that, we have the Kaila! edition inside… it's brighter, informative and loaded with exciting stuff for the young at heart. Check out the fun activities, lyrics, riddles and jokes… there is a lot for the kids to enjoy at home.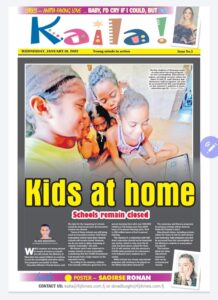 NEWSROOM
Want the chance to join a newsroom? Ready for a life changing challenge? We are after budding journalists and sub-editors to join our newsroom. Check out the newspaper for details!
HEADLINES
PAGE 1
1. HOPES are high that Fijian fans will get to watch the Drua take on the Highlanders at the ANZ Stadium in Suva on April 30. However, plans will have to change if the "no spectator" rule remains in place, says Drua chief executive offi cer Brian Thorburn in a statement.
2. A WAR of words has broken out between the Fiji Labour Party (FLP) and the Electoral Commission over the current status of the commission.
The commission rejected FLP claims that since the resignation of Suva lawyer Suresh Chandra as its chairman the commission was not "in place", saying that it was operating without him. Replying, FLP leader Mahendra Chaudhry claimed that under the Constitution the commission was not legally constituted without a chair. The commission
then countered in a second statement that the Constitution allowed the commission to operate even if one of its members was absent.
PG 2
1. THE Ministry of Education is now allowing school managements and heads of schools to deal directly with the Permanent Secretary for Education on matters related to grants.
2. THE classroom set-up for Class One in Fiji is "very military style", Education Minister Premila Kumar said.
3. THE Health Ministry has 17,500 COVID-19 test kits in stock.
PG 3
1. WHILE the public is preparing for the adverse weather conditions, they have also been reminded to also prepare well for their health needs.
2. A 21-year-old fully vaccinated male with no pre-existing medical conditions was among the 16 new COVID-19 deaths recorded for the period January 8 to January 16.
3. SOME families in the Lau Group have sought shelter with relatives after their homes were damaged by tsunami waves generated by an underwater volcanic eruption in Tonga last Saturday.
4. THE US Embassy Chargé d'affaires Tony Greubel yesterday announced the approval of $212,365 in immediate assistance to support people affected by volcanic eruptions and tsunami waves in Tonga.
PG 4
1. The Fijian Elections Office is expected to commence a second recruitment drive today.
2. The Fijian Elections Office launched its first round of training for the 2022 General Election Officials.
3. A METEOROLOGICAL drought for Rotuma and Monasavu has been forecasted by the Fiji Meteorological Services.
PG 5
1. THE Ministry for Lands and Mineral Resources says an area in Rakiraki that is subject to a new mineral prospecting application was first explored in the 1980s' and does not encroach on archaeological sites that are connected with Fiji's history.
2. A FAMILY of Vatulaulau in Ba is living in fear after recent torrential downpours caused a major landslide metres from their newly built home.
PG 7
1. A 20-year-old woman who was allegedly raped by her uncle on four separate occasions told the High Court in Suva she did not know how to tell her mother what she was experiencing.
2. Ministry of Health and Medical Services says as highlighted by the World health Organisation, there is data to show that more than one in four health workers globally has experienced mental health issues during the pandemic.
3. IT has been more than two months since seven-year-old Chirga Murti went missing and his whereabouts is still unknown.
PG 12
1. WESTIN Denarau island Resort & Spa has started a $75 million refurbishment that will see all its 255 rooms, restaurants and public areas undergoing a facelift.
2. TAU villagers in the district of Wai in Nadroga will no longer have to travel to Nadi or Sigatoka to seek proper health and medical care.
3. A RANGE of advocacy resources on COVID-19 safety messages were launched by the Ministry of Education in collaboration with UNICEF this month.
4. FIJIAN companies and individuals can now start importing tomatoes and tomato seeds from New Zealand after the Biosecurity Authority of Fiji (BAF) lifted a prohibition order that was put in place in June this year.
PG 16
1. LUKE Radaveta has six children and his biggest worry right now is how he is going to feed them in the coming days.
2. SIGATOKA based fresh produce exporter and managing director of DKAY Exports, Dharmend Kumar, claims he lost crop valued at $80,000 due to the damage caused by flooding brought on by Tropical Cyclone Cody was worth around $80,000.
3. TWO commercial okra plantation along with other fresh produce plantations belonging to export company G Group Fiji Ltd were badly damaged as a result of the recent flood events in the Western Division.
4. TEN THOUSAND cut flower orchid plants worth around $200,000 belonging to South Sea Orchids were damaged in the recent floods brought on by rain associated with Tropical Cyclone Cody.
PG 17
1. CONTINUOUS heavy rain brought on by Cyclone Cody last week caused a landslide that damaged five houses on the island of Nananu-i- ra.
PG 18-19
1. THE FOUNDATION for Rural Integrated Enterprises & Development (FRIEND Fiji) used close to $100,000 to assist flood victims in the aftermath of last week's tropical depression that caused widespread flooding in the West.
2. HUMAN rights activist Shamima Ali is calling on Government to work in partnership with non-governmental organisations, civil society organisations and political parties to address the needs of the flood affected.
3. TEN THOUSAND cut flower orchid plants worth around $200,000 belonging to South Sea Orchids were damaged in the recent floods brought on by rain associated with Tropical Cyclone Cody.
4. SAVAIRA Lewacagu of Togo Lavuso Settlement in Nadi is praying her market vending business is not drastically affected this cyclone season.
5. NADI poultry farmer Satish Kumar lost more than 600 chicks and about 200 adult chickens to last week's floods.
6. MINISTER for Education Premila Kumar says planning the location of a school was important to ensure its protection from natural disasters.