2018 RWC 7s: From soccer to 7s world cup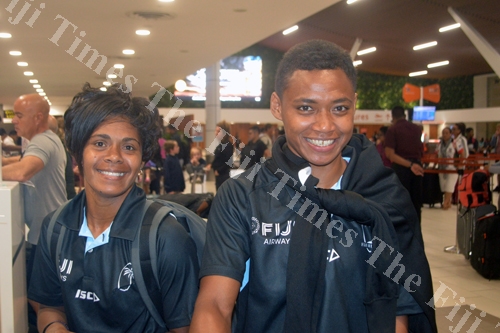 FIJI Airways Fijiana 7s rep Viniana Riwai didn't believe in representing the country in rugby, let alone playing at two Rugby World Cup Sevens.
Having played soccer for more than 15 years, the Saqani, Cakaudrove, native also represented the country at the Pacific Games before joining the Fijiana 7 team in 2013.
In her first rugby season, Riwai made her biggest break when she was selected to represent the country for the 2013 Rugby World Cup Sevens in Russia.
And after getting a taste of top level competition, the 27-year-old was hungry for more games and continues to work hard until securing her second rugby 7s world cup appearances this year.
Riwai said rugby was not in her mind while growing up in Labasa 20 years ago. "Growing up in Labasa, I didn't play any other sport apart from soccer," she said.
"I represented Labasa Sangam in primary school soccer then played for Labasa Muslim College in high school before being selected in the national soccer team.
"When I moved to Suva I then joined few of my friends playing rugby. It was from these rugby games that challenged me to try out rugby."
Riwai then joined the Marist Seahawks rugby club in Suva and was later drafted in the Fijiana 7s team.
"I was selected as the playmaker and sometimes played rover for the Fijiana."
"Some of my soccer talents always come handy in rugby game and I thank the Almighty Lord for his blessings.
"My dad always tell me not to waste my talent which is the reason why I always work hard."
She said she would give her best to help the Iliesa Tanivula-coached side do well in this year's world cup. "I was new to the sport when I played in the last world cup. I am looking forward to an improved performance this year."
Riwai said the team had prepared well and the aim was to beat Spain this weekend.
She said the side needed a win to progress to secure a quarter-final berth.
"Spain will also come prepared for the game as they will also want to beat us."
Riwai alongside Rusila Nagasau, Pricila Siata, Luisa Tisolo and Asinate Savu were part of the 2013 rugby world cup 7s.
Meanwhile, the side was expected to leave for San Francisco today after spending one week high altitude trading in Colorado.