FRA: 13 crossings in the West remain closed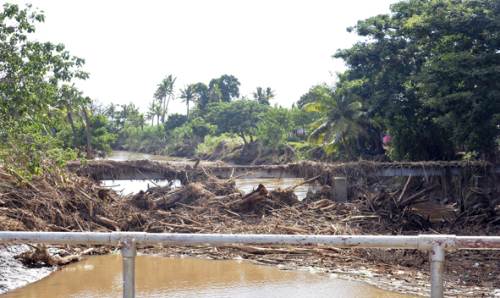 Update: 7:39PM THIRTEEN crossings in the Western Division are still closed.
According to the Fiji Roads Authority's latest situation report, five of the inaccessible crossings were in Ba, four in Sigatoka, one in Lautoka and three in Rakiraki.
Earlier today, FRA's Jonathan Moore and Minister for Infrastructure Parveen Kumar toured Yalalevu and Vatulaulau in Ba.
Mr Kumar said work on opening the access routes would continue over the next few days.
Open Routes highlighted:
– Crossing No.2 on Koroboya Road in Ba
– Navala Crossing on Navala Street in Ba – Open
– Crossing No.2 on Vutuni Road in Ba
– Crosssing No.1 on Toge Road in Ba
– Babriban Crossing on Babriban Road in Ba
– Nanuku – Cirisobu Road in Ba
– Nalele flat on Ciri Road in Sigatoka – Open
– Malomalo Crossing on Naidiri Road in Sigatoka – Closed
– Oloolo Road underwater at second bridge in Sigatoka
– Lawai Crossing on Nacocolevu Road in Sigatoka
– Qwali Flat on Tilivalevu Road in Sigatoka – Open
– Matewale Crossing on Valley Road in Sigatoka
– Mate Crossing on Mate Road in Nadi – Open
– Chuni Lal Road in Nadi – Open
– Arolevu Crossing on Arolevu Road in Nadi – Open
– Lomawai Road in Nadi – Open
– Navula Road in Lautoka – Open
– Vakabuli Indian School Road in Lautoka
– Saru Back Road in Lautoka – Open