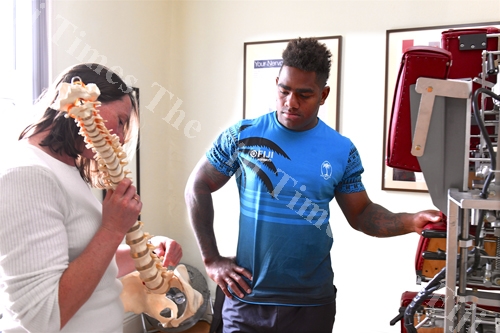 THE Fiji Airways Fiji 7s team is working on getting more recovery time ahead of the London 7s at Twickenham this weekend. The Gareth Baber-coached side attended a chiropractic treatment at The London Chiropractic Clinic yesterday to ensure players recover well before the second last tournament on the HSBC World Rugby Sevens Series.
The players worked with the clinic owner and principal chiropractor, John Stoker, who has also been the team's official UK chiropractor since 2014.
Skipper Jerry Tuwai thanked Stoker and the clinic staff for helping the team.
"Rugby is a contact game and chiropractic really helps us a lot with the training and the recovery of the body," Tuwai said.
"Travelling around the world puts such strain on the body and we are thankful for the chiropractic treatment."
Baber echoed the sentiment, saying the treatment helped optimise the players' performance, strength and flexibility and aid in the recovery of injuries sustained during the series.
"This is the fifth year in a row that the Fiji rugby 7s team has benefited from treatment at The London Chiropractic Clinic. The clinic has become an important element of our ongoing fitness management program," Baber said.
Stoker commended the Fijian gladiators, saying they were "incredibly talented".
"It is fantastic to work with the team management and the players to keep them on top of their game. Chiropractic care can help maximise your true sporting potential. When your body is in alignment, it allows you to optimise your performance, reduce the risk of injury and be the best you can," Stoker said.
Fiji is pooled with New Zealand, Scotland and Argentina.