Fiji road structure cannot exceed four lanes: A-G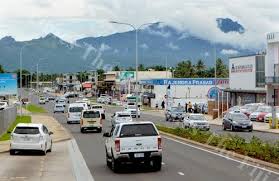 FIJI'S present road structure cannot exceed four lanes.
This was highlighted by Attorney General Aiyaz Sayed-Khaiyum during the 2018/2019 national budget roadshow held at the Fiji National University's Samabula campus in Suva.
He said previous governments should have envisaged population growth and made more road reserves.
"So today, we cannot go more than four lanes now unless we start buying properties so the planning was not there," Mr Sayed-Khaiyum said.
This comes after FNU student Sitiveni Hicks asked whether there were laws in place to control the amount of second-hand vehicles being brought into Fiji and how the government was addressing traffic congestion.
In response, the A-G said the issue of ridding congestion could be addressed by having a dedicated bus lane during peak periods.
"It's a problem we obviously need to solve so things like dedicated bus lanes will help but we need to set up the infrastructure around it too," Mr Sayed-Khaiyum said.