Fiji PM urges Pacific leaders to lobby and connect with 100 nations
14 December, 2019, 3:17 pm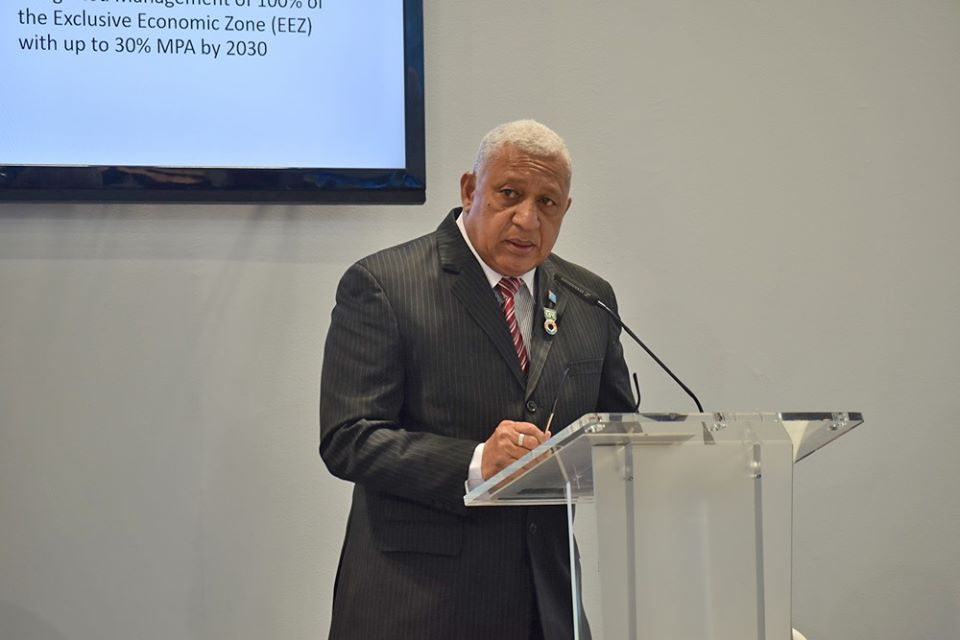 FIJI'S Prime Minister Voreqe Bainimarama has called on Pacific leaders to lobby and bring together 100 nations by 2025 to agree to integrated management of their whole Exclusive Economic Zones (EEZ) that would be determined by a set of guidelines and targets.
Addressing the Oceans Management side-event themed 'Integrated Management of 100 Per Cent of EEZ With Up To 30 Per Cent Marine Protected Areas By 2030', Mr Bainimarama said Fiji had found great hope in the many friends of the ocean that had shown support to the cause.
He said they now needed to turn those friendships into commitments that would aggressively protect the vital ocean ecosystem before irreversible damage was done.
"We've come together to build on the momentum of our ocean-focused negotiations and pull together a group of forward-facing nations that are committed to achieving 100 per cent integrated ocean management of our exclusive economic zones," the Fijian PM said.
"Fiji has already committed to the 2030 target of 100 per cent sustainable management of our EEZ, with at least 30 per cent to be declared Marine Protected Areas. Today, we officially challenge others to follow our lead.
"A 100 per cent EEZ strategy can provide a regulated and managed ocean buffer between growing coastal populations and the high seas by limiting pollution, controlling fisheries markets, increasing fish-stock, protecting biodiversity, rebuilding ecosystems, and monitoring shipping, among other benefits."
Mr Bainimarama said in the Pacific, the oceans were the lifeblood of the environment, economies and the planet.
"In Fiji, we have called for a 10-year moratorium on seabed mining which would last through to 2030 and this will pave the way for a decade of scientific research that allows us to better understand the impact of human activity on our oceans," he said.
"We stand here today in support of the idea of a coalition that will reshape the world's EEZs at a time when big, blue ideas have never been needed more.
"We call on all those that are already forward-thinking in their commitment to 30 per cent MPAs by 2030 to join us here because without a holistic policy across all our blue space, we will not be able to fully ensure our MPAs.
"Together, we have the potential to forever turn the tides in the campaign to save our oceans, so let us seize this opportunity before it's too late."